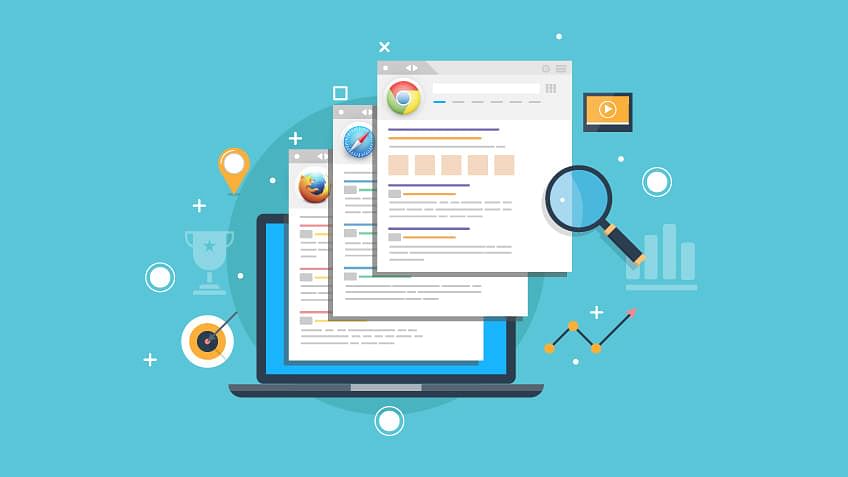 From the Market Motive Forums: Different Browsers Give Different Results. What's the Deal?
If you use Google regularly, you may have noticed an interesting phenomenon: Search results often change between browsers. This means that the browser you use impacts what pops up on the first page. While it's easy to chalk this up to being one of those "weird tech things" that no one ever seems to understand – except perhaps the mighty algorithm gods who reside at Google – this is actually just a direct result of Google's search algorithms and how they try to interact with your browser.
Why Search Results Vary With Different Browsers
It's important to understand how and why Google search results differ between browsers so that you better understand which variables you do and don't have control over when performing searches. This can – and rightfully should – have a direct impact on the search terms you decide to target in your marketing campaigns.
Enroll in our DMCA course today and learn how to conduct your very own marketing campaigns.
So why exactly do different browsers show different results? What sorts of variables impact what search results in your browser displays?
Google's search algorithms are a well-guarded secret, so nobody knows exactly how they choose which results to show. It's probable, however, that a few different variables effect which results in your browser displays, which we've outlined below.
VARIABLE 1: Device Type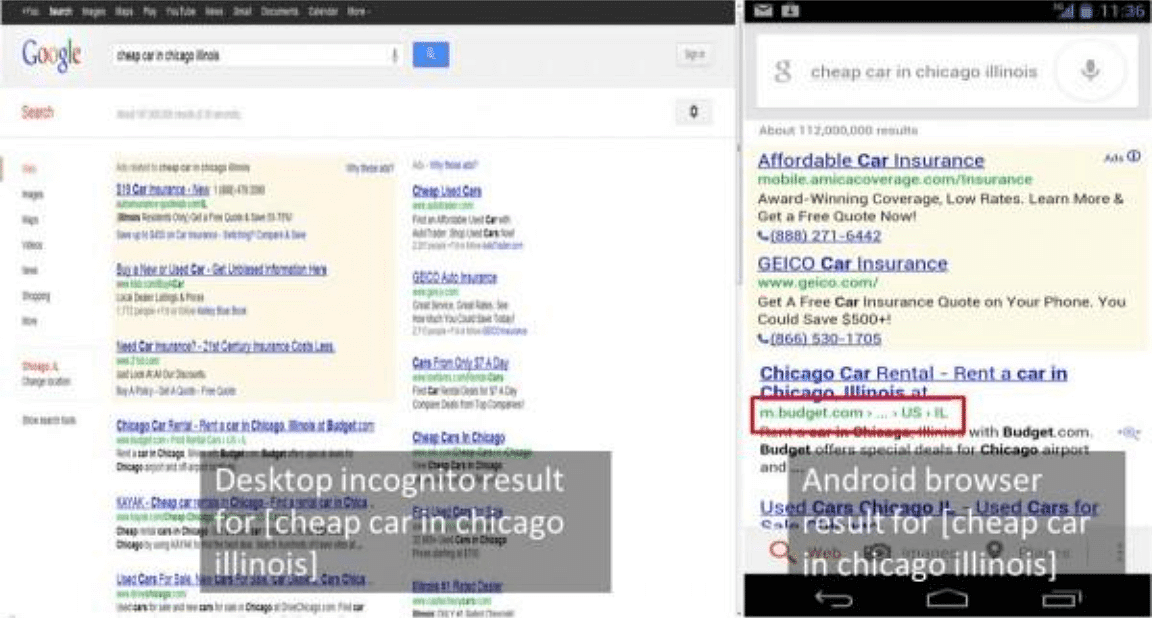 Desktop vs. mobile search results
(image courtesy searchengineland.com)
Google and other search engines store cookies in your browser's history. These cookies allow Google to maintain information about your previous searches, profile information, and language preferences. The type of device you use will change the results you see while browsing, which plays a role in why different browsers show different results. After all, it's highly unlikely that you're conducting the same exact searches on your desktop computer as you are on your mobile device… all the time.
Equally important to understand is that your mobile search results will be different from what pops up on your PC. After all, mobile devices handle cookies differently than desktops do.
If you're hoping to attract both mobile and desktop users to your site, it's important to understand these differences.
Oh, and let's not forget that over half of all searches are now conducted on a mobile platform. So if you still haven't adopted a mobile strategy, now would be a really good time to do so.
VARIABLE 2: Personal Search History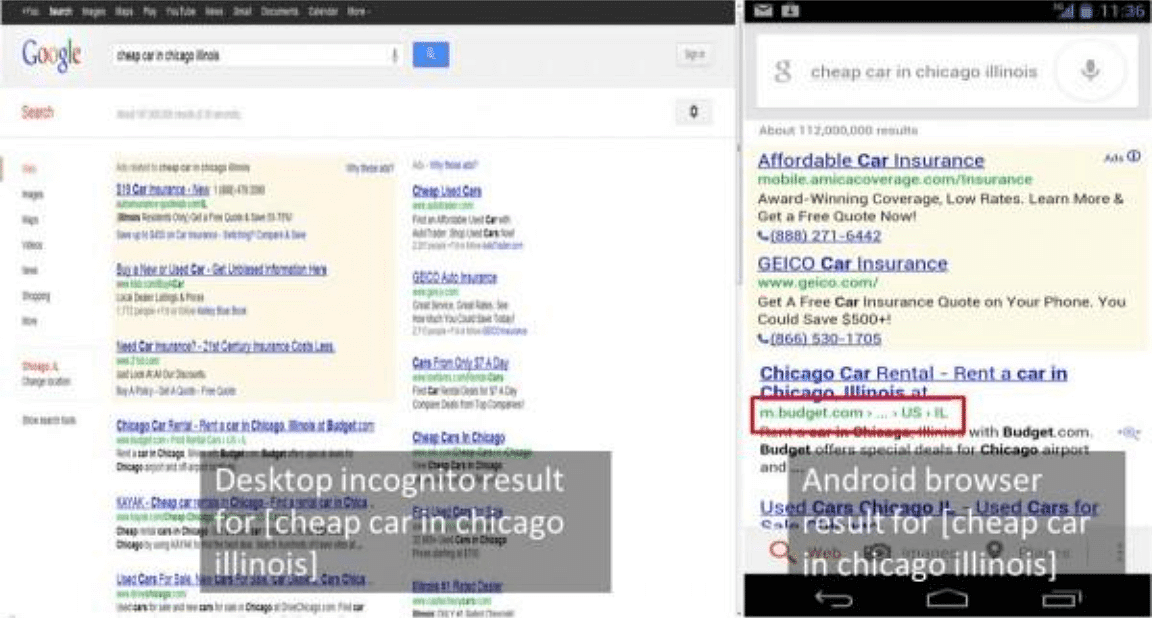 Your browser's cookies keep track of your previous searches. Google uses this search history to offer you results based on your previous searches, since these are more likely to be relevant. If you repeatedly search for a certain phrase or keyword, your results are more likely to include these phrases or keywords. This means that if you suddenly switch browsers and start using a browser that does not have those cookies, your search results are going to be different.
VARIABLE 3: Links You've Previously Clicked On
If you repeatedly search for the same terms or phrases, and then wind up clicking on this same search results, Google will prioritize these links in future searches. What this means is that links will show up more frequently, and with a higher page rank.
75% of all users never go past the first page of results, and links you've clicked on before are more likely to show up on that all-important first page. If you've been clicking on certain links in one browser and then suddenly switch to another one, the results in your second browser will be different because you haven't been clicking on those links with that particular browser.
VARIABLE 4: Geographic Location
Google search results are influenced heavily by location services, so your search results will be targeted at the geographic area defined in the device you're using. For example, if you search for "theaters," movie theaters close to your location will pop up.
Also keep in mind that browsers like Google Chrome and Mozilla Firefox have their own location services built in. If they don't have location data for you, or have the wrong location data, you can expect your search results to be drastically different.
VARIABLE 5: Your Google Account
If you're logged in to your Google account, Google will use the information it has about you personalize your search results. Google will refine your search results based on your past behavior, like past purchases and reviews. If you are logged into your Google account on one browser but not another, your search results will vary, with the browser you are not logged on displaying less personalized results.
Key Takeaways
At the end of the day, much of this comes back to cookies. The way your browser interacts with cookies will have a substantial impact on which search results you are shown. If you want proof of this:
– Do a quick Google search for something
– Clear your cookies and browser cache,
– Run the same search again
Your results are probably night and day different.
Whatever the reasons are that your search results vary between browsers, please keep this one very important piece of information in mind: they should not be relied on to get an idea of which search terms are bringing visitors to your site.
Rely instead on Google Analytics to determine which search terms and keywords you should focus on. The SEO section under Acquisition shows Search Queries (you need to have Webmaster Tools enabled). This gives you the search terms leading visitors to your website for the past month, and the average page ranking for each term as per Google's view of this. At least this tells you which of your search terms are generating the most traffic from an SEO perspective and how you're doing with them.
Along with award winning training courses and weekly live webinars, our members find guidance and insight every day in the Market Motive forums. This post is based on a student/faculty exchange, and we invite members to join the conversation.
Want access to this kind of training and support?