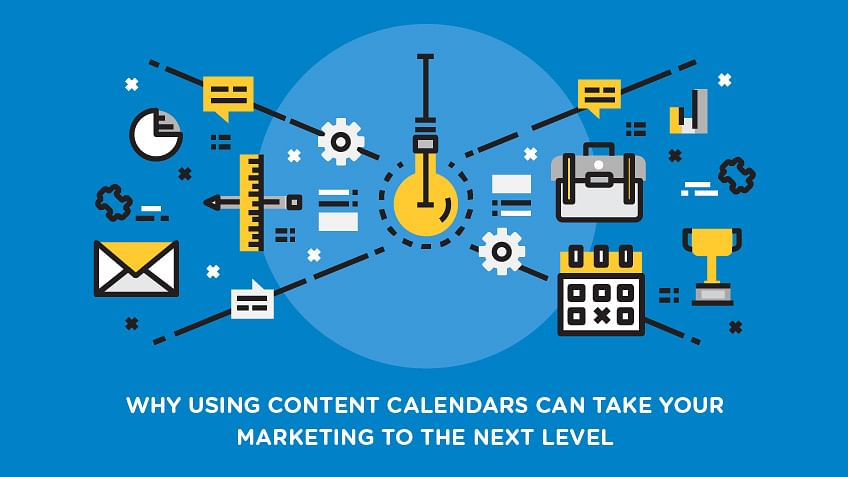 Over the last several years, marketing professionals have come to recognize the power of compelling content to engage their customers and drive traffic and brand awareness. As a result, marketers are being presented with countless new innovations designed to help in the creation, management, and distribution of content.
The most successful marketers utilize several different channels for distributing content – tweets, Facebook posts, blog articles, Instagram, and more. While this broad approach to social media and content leads to better campaign results, it also creates a large organizational burden and an endless stream of tiny deadlines.
Recently, a variety of content calendar tools has emerged as a way to plan and automate the delivery of different types of content. As most marketing departments are eager to increase their focus on consistently delivering content across many different channels, familiarity and expertise with content management calendar tools will become even more important.
The Right Timing Gives the Best Results
Recently, there has been a lot of research providing insight into content marketing best practices. According to the Content Marketing Institute, 60% of the most successful marketers release new content every day, and 85% of content leaders release content on a consistent basis.
What this shows is that, for any amount of content, the industry leaders will gain an edge through timing their delivery. Whether it is daily, weekly, or somewhere in between – there is a demonstrated benefit to utilizing content in a way that engages your audience on a regular basis.
Dedicated use of a content calendar ensures you take advantage of this fact. Being able to shuffle around your planned content delivery with an eye towards consistency and regular engagement is a huge benefit all by itself.
More Types of Content, Managed in One Place
Since a content calendar template is built to organize and plan several types of content, marketers can easily add different delivery channels and content types into their regular rotation.
The content marketers with the most impressive results use an average of 13 different marketing techniques. This means not only distributing content through different kinds platforms, but varying the format between short articles, infographics, videos, and more. It can be a headache to juggle different content types while also being mindful of the timing of the message and overlap with other campaigns. A centralized hub that displays all these different content types in one calendar format can make it a breeze to add new approaches to your content market roster.
Effortless and Immediate Results with Free Tools
Setting up a great content calendar doesn't require a tremendous amount of legwork or expensive software. In fact, there are several free spreadsheet and calendar tools that can help you quickly organize and plan your content delivery.
Being able to visually arrange and navigate a weekly, monthly, or yearly schedule of planned content can provide an instant level of clarity that would be impossible to achieve otherwise. Making strategic changes or shuffling around different tweets, posts, and videos become much easier when these changes can be put in the context of all the other simultaneous content channels.
Even without using the deeper functions of content calendars, the boon to organization and planning is immense. Content can be planned days – or even weeks – in advance, and strategically timed to achieve maximum results. Deadlines for content creation will never be rushed because articles and posts will be confidently planned well ahead of delivery.  This, in turn, will result in more consistency to content marketing efforts.
Oh, and let's not forget about timeliness.  Regardless of your niche, there are always ways you can plan marketing campaigns around holidays to get tremendous ROI.  Content calendars are a perfect way to integrate these types of 'micro-marketing' campaigns into your overall marketing strategy.
Calendar Functionality to Can Help Manage Teams and Track Results
Most free content calendars provide templates and spreadsheets for tracking different content channels, but can also be customized to capture the organization's delivery workflow. Columns can be added to show which team members are responsible for creating, editing, and publishing the content piece.
With clever use of a content calendar, team strategy and individual deliverable details can be consolidated in one place. Workloads for teams and individuals can be synced with important business milestones and delivery goals to make sure that a plan is not only strategically well-conceived but also realistic and achievable.
In the same way, most content calendar templates already include, or can be modified to include key metrics to track the success of a piece of content. Data about traffic generated, bounce rate, and sales can be correlated to specific blog pieces. This can help identify areas of opportunity for delivery times, methods, and format. This can be a handy addition to, or even a replacement of, the marketing department's current reporting suite. Being able to see results of previous content delivery, and then move over one tab to plan future content delivery, can drive impressive results.
One Part of the Content Puzzle
Recent marketing data shows that the companies that spend the most effort on content creation and delivery have the best results. It is becoming increasingly important to tackle content efforts with focus and long-term planning as the goal of engaging customers becomes more competitive. Social networks have constantly changing algorithms which give preference to engagement. Once we've figured out as to what time and type of content work with an audience, a content calendar helps retain and push for growth in a disciplined manner.
There are a plethora of great tools available that have been developed to capture campaign data and automate content delivery. Incorporating free content calendars into your daily workflow and planning sessions is a valuable way to centralize content marketing strategy, delivery, and results in one place. With their intuitive interfaces and low learning curve, content calendars can easily become invaluable.