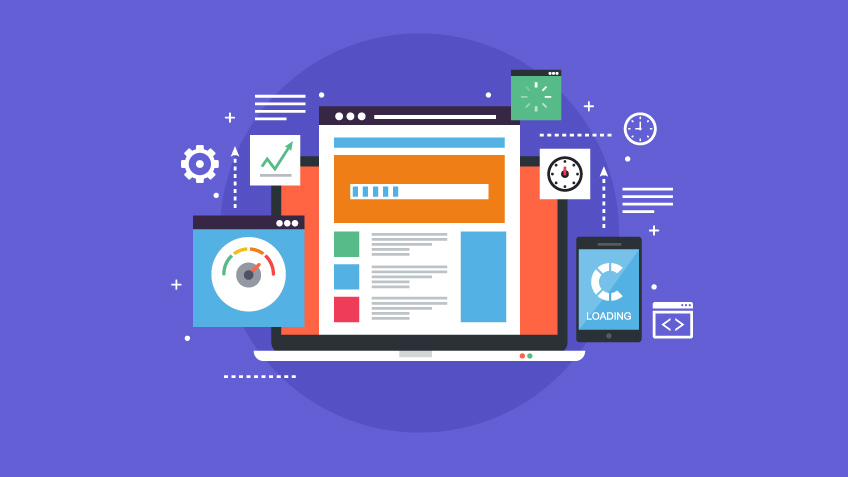 The Importance of Page Speed for SEO
Page speed has always been about user experience. Slow loading pages hinder a site's ability to capture and keep visitors on a page, but does this affect a website's ranking?
For years there has been a debate on whether or not page speed contributes to Google's ranking process, but Google has laid this debate to rest. Officially announcing that page speed will be a ranking factor in the months to come, Google has made it clear that this will be a top priority for optimization.
With the mobile-first search index rolling out this year, page speed will be a crucial component of the algorithm. The time to start optimizing for speed is now. If you haven't already begun, rolling up your sleeves now and diving in will position you ahead of your competition. An SEO course could help you here. A course like this would help you understand where each SEO element fits in and how to optimize your whole site so you can shine brightly in Google's books.
Staying in front of your competition is what solid SEO is all about. In fact, a study by a Colorado Springs SEO Agency suggests that the first page of results gets 95% of all traffic and the first spot gets 30% of that same search traffic. By addressing page speed, you have an advantage over many of your competitors who ignore this statistic.
What the Data Already Says…
According to Google's research, the average mobile page load speed is about 22 seconds, and with that, a typical visitor takes roughly 3 seconds to decide if they would like to stay on the site. Grabbing the attention of your visitors is key to landing conversions.
If all a visitor sees is a website loading in those first three seconds your bounce rates will soar and they will likely move onto a competitor. When a consumer decides they need a product or service they want it immediately. Yes, page speed is essential for SEO, but the user experience (UX) is what gets conversions. The longer your load times, the more money you are losing.  It's as simple as that.
Figuring Out How Fast a Page Loads
There are a variety of free tools out there that can help determine how fast your page speed. Google has launched the mobile scorecard tool to help firms test the mobile responsiveness of their websites.
My go-to is using Google's Page Speed Insights to determine just how fast a page is loading.
Simply copy and paste the URL which you want to examine and click "analyze."

After a few seconds, the page will be crawled and analyzed. The results not only give you a score but will also offer suggestions that are highly actionable to help speed up the page. It might look something like this: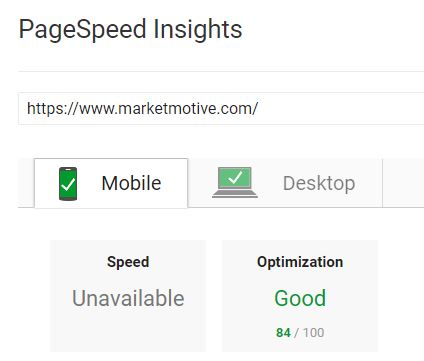 This tool not only gives you your score but offers up suggestions on how to improve site speed further down the page.

Some of the optimization suggestion is relatively straightforward, but others might seem a bit technical and can be the source of many headaches. So what does all this mean?
A Guide to Site Speed Optimization Suggestions
Optimizing your website helps you streamline your marketing funnel and bring more customers to transact on your site. Here are some tips to help make your site more SEO-friendly.
Image Size and Compression – Typically the biggest offender on site speed are large image files that slow down a page. The nice thing about Page Speed Insights is at the end of the scan Google will present you with a file containing the offending images, doing some of the work for you. If you are running on WordPress, there are some excellent plugins that handle this fairly well for free and even better if you purchase the premium versions. One of my favorites is the Smush plugin which does a great job of compressing image files among other nifty tools.
Make Use of Browser Caching – Another example of slowing down a web page is the browser caching not being utilized. This simply means that a browser can load resources from a local disk rather than call on the server, saving time and upping the speed of the page. There are many ways to implement this feature by adding a maximum expiration date into a page's header. If you use a CMS such as WordPress, some decent plugins like Leverage Browser Caching can handle this for you.
Server Issues – Some issues that help with speeding up a webpage come from the server level. Items such as reducing server response time can be solved in general by upping your hosting resources to increase page speed. Another typical issue is Gzip compression which can also be addressed at the server level or utilizing specific plugins within CMS's such as WordPress.
Minifying CSS, HTML, and JavaScript – Another thing that annoys Google is code that is bloated and not streamlined. Again, with a simple search, you can find some plugins that handle this, but the story here is by shrinking code down to the bare minimum it has the potential to make a page load much quicker. Often coders will leave comments within their code or add extra spacing within that creates more extensive than required server calls.
Avoid Landing Page Redirects – Sometimes having redirects from a page is necessary, but this can also cause extra time on page loads. Avoiding redirects towards these pages is a good idea, but be careful. Redirects can play an important part in SEO so weigh your options and keep tabs on what happens if you remove an important redirect. The redirects you want to watch out for are, for example, a redirect from a desktop page to a mobile version. If your site is not responsive and needs this type of redirect, it is time for a website redesign to something more mobile friendly.
Speeding Up a Web Page Beyond Page Speed Insights
There are also a number of ways to improve site speed that Page Speed Insights just don't give you. Below are some tips that can help better your UX and make Google happy:
5 Other Ways to Improve Page Speed
Consider creating an AMP page for mobile

–  AMP can give a page a massive boost in speed and is fairly easy to implement. AMP stands for Accelerated Mobile Pages and is basically a static cached version of a page on your website that loads in an instance. Read more about implementation

here

Consider using a Content Delivery Network

– Also known as a CDN. This can dramatically lower server response times by using servers closer to where a person might be searching for among other things. CDN's such as Cloudflare have numerous options to help speed up your websites and their internal pages. They can also protect your websites from malicious attacks.

Buy Better Hosting

– I know everyone wants to save money, but saving using a budget web host can cost you in the long run. Remember, slow load times equals fewer profits. By investing in a robust hosting plan that can handle traffic you are ultimately creating happy customers through the user experience. This means more conversions and less bounce.
What Does This All Mean?
By improving site speed, you are not only helping with the website rankings you are making the web a more user-friendly environment. Google's goal is to make the World's information easily accessible, and the end game of any SEO campaign is to please Google.
In other words, if you improve your users' experience, you are making Google happy, and Google will reward you with better placement in the search results.
Disclaimer:
This article was written by one of our guest writers. The author's views are entirely his or her own and may not be indicative of the views of Market Motive.
Author Bio
Mike Tortorice is the SEO and Digital Marketing Manager at Infront Webworks in Colorado
Springs, CO. Mike has been in the digital marketing space for over 10 years developing sound
marketing strategies for thousands of clients in the process. An avid skier and hiker who
loves all things digital. Mike's passion is a result of being able to help businesses succeed in
the digital landscape.