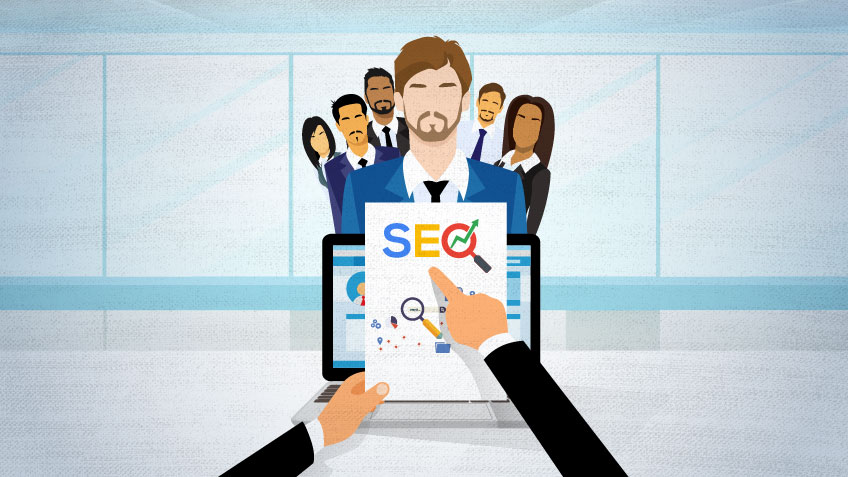 We've all had that one tough interview – the one where you thought you were prepared, but then came those hard SEO interview questions that had you utterly stumped. At the risk of looking unprepared, you rambled on and on, never really answering the questions at all.
It's the worst fear of every person heading into a new job interview. You just never know what the interviewer might ask, and no matter how qualified you might be, it's impossible to know everything about a job that isn't even yours yet. 
The good news here is that prospective employers understand this, and they know that even the most competent candidate can get sidetracked by the occasional question. But, this is their chance to gauge an SEO's ability by testing their knowledge and ability to come up with creative solutions quickly.
SEOs who are job seekers should be prepared for a comprehensive interview that will give them the chance to demonstrate their knowledge and expertise. While an SEO course helps prepare for just such a situation, one of the best ways of being prepared is knowing what questions the interviewer is most likely to ask.
We've compiled a list of SEO interview questions for SEOs of all levels. These questions range from typical to unexpected, and the answers will help you land that next big job.
SEO Interview Questions for Beginners
Interviewing for your first SEO job can be intimidating. In an industry filled with experts, you're starting from the ground zero.
But do you want to know a secret?
Each one of those experts started at the exact, same point where you are today. The SEO industry is ripe with opportunity for beginners.
Before your first interview, it's smart to brush up on all the SEO terminology. Publications like SEO for Dummies (not really for dummies at all) presents the basics in an easy to understand format. Even if you're super confident in your SEO knowledge, it doesn't hurt to fine tune your vocabulary for the interview.
Now, for the most common beginner SEO interview questions that will help prepare you for your big day…
SEO Interview Question 1: Tell me what you know about SEO and why it's essential.
Answer: SEO, or search engine optimization, is used to define one or more activities performed to improve a brand's search engine ranking. SEO is building visibility through free, organic search results.  SEO is important because the digital landscape is enormous, and brand's need a way to get noticed. Internet users view businesses that land on the first page of Google, more specifically the first 5 entries, with higher regard. SEO helps business land these tops spots.
SEO Interview Question 2: What are the two types of SEO? What are the differences between them?
Answer: The 2 types of SEO are on-page optimization and off-page optimization. On-page optimization regulates the site through page coding, where off-page optimization does not. On-page SEO consists of the activities performed on a business's website to drive a higher ranking from search engines. This includes optimizing website content as well as HTML source codes, meta tags, meta descriptions, title tags and heading tags. Off-page SEO refers to other aspects that influence rankings, such as social media, content marketing, and link building.
SEO Interview Question 3: What is the difference between a backlink and an outbound link?
Answer: A backlink is any incoming link to a web page or website. An outbound link is a link to a website that links to another web page or website.
SEO Interview Question 4: Define keyword and tell me about their importance in SEO.
Answer: Keywords are literally as they sound – words that serve as a key to unlock visibility. They are the words and phrases used in web content that helps Internet users find specific websites through relevant search queries. Keywords and keyword research are both crucial parts of SEO. They're not the only focus, however.
SEO Interview Question 5: What other factors are important for SEO?
Answer: Search engines like Google and Yahoo use a complex system of analytics to determine a page ranking. It consists of over 200 metrics, some of which include UX, website speed, content, backlinks, social media and image optimization.
SEO Interview Question 6: What do you feel are some of the most common SEO mistakes?
Answer: Not leveraging the right keywords, not using longtail keywords to attract a specific audience, paying more attention to the number of links then than the quality, an inadequate content strategy, not having unique meta descriptions and title tags, and not paying enough attention to the factors that contribute to UX.
SEO Interview Question 7: It's impossible to tackle SEO without the use of some tools. Which have you used and are familiar with?
Answer: For this, you should answer honestly with any SEO tools that you have experience with. Some of the common SEO tools include SEM Rush, SpyFu and Google's Keyword Tool.
SEO Interview Questions for SEO Specialists
You're a candidate for a great new SEO position. This isn't your first rodeo in the SEO interview question and answer arena. It's expected that you already know a great deal about SEO. Here's your chance to shine with the knowledge that elevates you above the other candidates.
SEO Interview Question 1: Tell me about your process. What are the steps you take to optimize a website for a new client?
Answer: What the interviewer is looking for here is evidence that you're methodical in your process, and also detail oriented. Walk the interviewer through your entire process and take the time to mention details that other candidates might overlook. Start at the beginning of your process for assessing the quality of a site's rank to testing and evaluating the success of your strategy.
SEO Interview Question 2: Is data important to your strategy?
Answer: This seems like a no-brainer, but those that have been in the SEO industry for a while can become immune to data and begin to use instinct to drive their SEO decisions. The bottom line is that SEO should never be based on guesswork or intuition alone. You need to present yourself as someone who is analytically minded and knows how to integrate strong data into your strategies.
SEO Interview Question 3: Tell me about your biggest SEO disaster.
Answer: Every SEO expert has had one, so don't present yourself as being above making a mistake. It's your job to try new things and measure the results. This is how you build new strategies. What the interviewer is looking for here is proof that you've tested your strategy, found what was wrong and were able to adapt accordingly.
SEO Interview Question 4: Tell me about the current changes to Google's SEO algorithm.
Answer: Google makes changes to its ranking algorithm on a regular basis. In fact, it's pretty fluid and constantly evolving.  It's an SEO specialist's job to be up to date with these changes, so make sure you've researched what's new on Google's end before you head into your interview.
SEO Interview Question 5: What are the black hat techniques that a good SEO specialist will avoid?
Answer: Mention anything that has the potential to hurt rankings like keyword stuffing, link farming, and hidden text.
SEO Interview Question 6: What do you do if you take on a client with a website that's been banned by Google for black hat practices?
Answer: The specific path of action will depend upon the offense, which could be anything from backlink manipulation to link selling or scraped content.
Once the offending issue has been resolved, it's time to appeal to Google and ask for re-inclusion. This requires accountability, fully admitting the wrongdoing and detailing how the issue has been fixed. This is also the right time to assess the quality of the site and make sure that it's offering value to visitors with features like quality content and UX.  Sites that provide value are viewed favorably by Google, which increases the likelihood that they'll agree to re-inclusion.
SEO Interview Question 7: How do you keep current in the industry? Which blogs do you read on a regular basis?
Answer: It's part of your job to be on top of industry news and trends. Show the interviewer that you're interested in the growing field of SEO by reading several of the popular SEO blogs – like Moz, SEMRush, SearchMetrics, and Ahrefs – and be prepared with a recent article or two that you've found especially interesting.
SEO Interview Questions for Managers
The SEO interview questions you'll be asked at this level of interaction will expand well past basic SEO knowledge and reach into the territory of personal experience. Expect to be presented with more open-ended questions and prepare to go into greater detail with each of your answers.
You should be able to speak about any SEO topic and provide insight based on your own personal experiences.
SEO Interview Question 1: How does data help you build both short and long-term strategies?
Answer: The interviewer is looking to discover the level of your technical skillset, your ability to think analytically and glean meaningful insights from large data sets. This question is a great opportunity to expand your experience with API integrations and custom formulas.
SEO Interview Question 2: Tell me about the reports you use to monitor a site's health and performance.
Answer: You should be able to list 3-4 reports that use regularly, including – but not limited to –HubSpot's Website Grader, Google's Webmaster Tools, Moz's Pro Tools, UpCity's SEO Report Card and Screaming Frog's SEO Spider. This demonstrates that you have a commitment to monitoring the success of your work and pay attention to detail. This question is all about exhibiting excellence in your field.
SEO Interview Question 3: Tell me what you know about Google's best practices and how they influence your SEO philosophy.
Answer: Google is pretty serious about what they will and won't accept in the SEO arena. An SEO manager needs to have intimate knowledge of Google's best practices and be able to apply them to their work daily.  Some of the main things you'll want to discuss include Google's Structured Data Testing Tool to check your markup, how to create a naturally flowing hierarchy of web pages, mobile optimization, sitemaps, and page speed optimization
SEO Interview Question 4: Should compensation be tied to results?
Answer: Tricky question, but the best answer is yes. The best candidate for an SEO manager position is one that believes in themselves and the ability to exceed the goals and expectations of their employer. Answering yes to this question also gives you more bargaining power for compensation.
Regardless of your skill set and the number of years of experience you have, the perfect SEO position is out there, just waiting for you. SEO is a growing field with huge potential for the future. Preparing for your interview today will help guarantee that you're the candidate they can't pass up tomorrow.
Good luck!