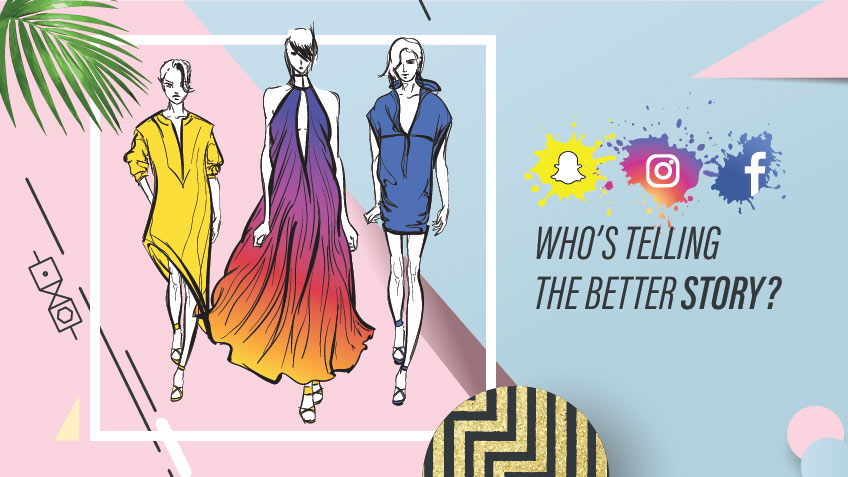 If you follow events in the social media world, then you will be well aware that Instagram stories clearly did not come first. In fact, first came Snapchat, then Instagram Stories and then later followed Facebook Stories. More on this later. But for now, let's start off by describing Instagram stories so that we are all on the same page as we go forward.
What is Instagram Stories?
Instagram themselves describe their Stories feature as allowing you to,
'share all the moments of your day, not just the ones you want to keep on your profile.'
Essentially, Instagram stories allow you to share pictures, videos in a slideshow format. The photos and videos then automatically disappear after 24 hours. Once you take pictures and videos, you can then add Instagram story filters, text, stickers, drawings and even include mentions of other users and add links to add your distinctive flavor and interpretation to the images. You can learn how to do all this by enrolling in our advanced social media course.
Adding the links and mentions to the images and videos are two key features that differentiate Instagram from Snapchat. More on the differences later.
The other features that Instagram boasts include:
Adding effects; such as adding doodles, geostickers, and live face filters

View those watching your content

Posting your

insta-story

to your public profile feed or grid (you must opt to do so since this will not happen by default)

Allowing your story to be visible to a select few such as your friends/followers, 

and further blocking those that you do not want to see your stories on Instagram even if they follow you.
What is the difference between Instagram Stories, Snapchat, and Facebook?
In the war of Snapchat vs. Facebook vs. Instagram Stories, it gets confusing for brands. Most people aren't even aware of the differences between the platforms. Before we can get to the differences between these different tools and platforms, it is important to touch on the similarities and the background of these tools. As mentioned above, first came Snapchat, and then Instagram and then later followed Facebook.
For those that are not aware, Facebook now owns Instagram. Also, it is clear to most that Instagram and Facebook both copied the one feature that Snapchat used to boast as being their exclusive domain. That is, the ability to automatically vanish your videos and images.
Instagram reinvented this feature and called it Instagram Stories while Facebook copied it as well and called it Messenger Day and Newsfeed Stories.
The similarities across the platforms are as follows:
Videos and images disappear

Filters, on-screen drawings, emojis, and text are used to enhance videos/images

Images/videos can be sent publicly, privately or just to followers

The number of views on videos/images can be monitored when the content is live.

Individually delivered messages can be viewed twice
All these features work in much the same way and create the same sense of urgency across all the different platforms.
The differences between the platforms, or rather, the unique features specific to each platform are as follows:
How is Instagram stories different from Facebook and Snapchat
Instagram Stories or Insta snap distinguishing characteristics include:
You can create and send out Live Stories, automatically notify your friends/followers and then interact with them in real-time

Stories can be shown to 'new' users who have not yet connected with you in an 'explore' section. This feature is somewhat in Snapchat, but you have to pay hundreds of thousands of dollars to enjoy this feature on your account.

For more efficient marketing, you can create and share Ads through 'Instagram Story Ads.' You, must, however, pay for this feature.

Instagram Stories has a

larger fanbase

than Snapchat
How Snapchat is different from Instagram and Facebook
Snapchats differentiating features are as follows:
Snapchat still maintains a unique and fun feel even though Facebook and Instagram have poached Snapchat features

Snapchat boasts unique and feature-rich geofilters in their Ad platform (Facebook tried to copy the feature with their 'Location Frames,' but Snapchat quickly shut this down through their patent)

Snapchat has a unique and loyal fanbase
Facebook Messenger Day/Stories differentiating features
Facebook's Messenger Day and Stories work comparably apart from the fact that Messenger Day is published on the users' Messenger app while the Facebook's Stories are published on the mobile Newsfeed.
Why You Should use Instagram for Business
There are several reasons to use Instagram Stories for business. Some of the features tailored to work well with business users are as follows:
Instagram Story feeds are uniquely organized
IG story feeds are ordered using an algorithm (instead of chronology) which benefits Business Marketing Strategies since factors such as engagement, likes, frequency, and consistency are prioritized. As such, Instagram stories are good for marketers and hence for businesses in the following ways:
They allow for more average posts and not just viral posts to filter to the top of users feeds since frequency and consistency are just as crucial as viral or popular feeds.

You can diversify content that you already have and use it in unique and diverse ways to stay top of mind by making it to the top of user's feeds

Instagram stories allow you to tap into instant marketing by allowing those that are not present at business/marketing events to still feel connected to your business

Marketing through an

insta story

has a more fun, and authentic feel since posts are not perfected but instead created by merely taking snaps and pushing a few buttons to share your story.
Instagram Stories encourage personal engagement
Instagram Stories create a sense of urgency that encourages personal attention to the content that is in a user's feed. As such, an ig story can have great benefit to a business in the following ways:
It ensures that companies create content that allows for high-quality engagement since it promotes real-time participation.

It allows businesses to connect with target customers right away

It prevents cluttering of your business

ig account

since posts are automatically deleted.

Your business Instagram account can be used to showcase your most recent and relevant content without any effort. Of course, if you want to keep a story and add it to your profile, you could easily do so
Instagram Stories allow you to manage and store your marketing content
Since you can choose to save the images or videos that you feel are valuable to you, you can instantly have access to lots of content that you can use down the road for your marketing needs. This has the following benefits for your business:
Through the

story saver for Instagram

, you instantly have a store of all your images and videos that you can use for your other marketing and business endeavors.

You can use the enhanced content created in stories (images/videos with drawings, text and other markups) to add more pizzazz to your overall marketing content.

You can repurpose the images and videos to create more elaborate marketing campaigns
How to use Instagram Stories? (Instagram Stories Formats)
If you want to know how to use Instagram for business, you need to understand the different Instagram Stories formats.
Essentially, when you choose to use stories on Instagram, you can choose from different formats at the bottom of the screen and beneath the shutter button by just swiping. The different formats that you will find are as follows:
Normal: this is a regular photo/video that you can take by tapping (to take a photo) or holding (to take a video up to 15 seconds long).

Boomerang: this format allows you to create a GIF that loops over and over. If you time it right, you can capture a fun moment in a few seconds with few seconds of motion.

Rewind: this works just like a normal format video but plays back only in reverse.

Hands-free: works like a normal video only that you do not need to hold the button to record the video. All you need to do is just tap once to keep the camera rolling until the allotted time runs out or until you stop the video recording
An Instagram new feature that has also become popular is Instagram live stories. Through this feature, you can stream live videos to your friends and followers at the moment.
The difference between Instagram Stories and Instagram Live Stories is that with Instagram Live Stories the live video is even more ephemeral since it disappears as soon as the video ends and not 24 hours after it is created as is the case with Instagram stories.
What are Facebook stories?
As mentioned earlier, Facebook's Stories are published on a user's mobile Newsfeed. They sit at the top of the Newsfeed and comprise of two separate parts; Stories and Direct.
Direct can be accessed through the top left-hand side of the Newsfeed by tapping on the paper airplane icon. Direct offers a private messaging feature (distinct from the Messenger) that allows you to view stories sent directly to you. Direct also allows you to see replies to your own stories. Conversations in Direct can only be started through video/image and not through text.
Facebook stories sit at the top of the Newsfeed in the area that is occupied by circles with pictures and videos representing stories sent by you and your friends. Tap on any of the circles, and you can view the Story.
How are Brands using Facebook Stories?
In as much as Instagram Stories seems to be the preferred way for businesses to engage their customers through the use of visual content, Facebook marketing, through Facebook Stories does not lag too far behind. Brands use Facebook stories in the following ways:
Product showcases: One of the best ways for brands to use Facebook Stories is by highlighting product versatility through images, videos, text, and special effects. Not only is the visual element of a product displayed but also how the product should be used or how it can be used differently.
Adding an authentic perspective: Through Facebook stories, brands can share their stories and journeys in the most authentic way possible. At the end of the day, most people love a story that is not only entertaining but one that has emotion and passion for expressing an authentic perspective of events or moments.
Revitalize communication: In this visual age that we are living in, having yet another way to share visual content and especially visual content with special effects never seems to grow old. In fact, Facebook content is used by brands and businesses to combine text and visuals that are easier to attract attention to and absorb.
Provide an insider perspective: Everyone loves to be an insider or to have an inside perspective of what is happening with their favorite brands. Facebook Stories is a window that can provide this view of the inside of a brands work and play by humanizing a brands activity.
Straight-up marketing: By merely recording a marketing event through photos or videos, brands can make audiences feel that they are present at the event and this is an additional way to reach out to large numbers of people for higher levels of engagement.
How to Use Facebook Stories for Marketing
Facebook is continually improving ways for individuals and businesses to connect with their audiences. Recently, (October 2016) Facebook rolled out Stories for all Pages. Since businesses mostly use Pages for their business needs, this has provided a massive incentive for businesses to use Facebook stories.
More specifically, sharing of Facebook stories has had a significant impact on brands since it is widely known that, great companies are not just about products and services but about their stories. In short, an authentic brand story can improve trust which can have a significant impact on a brands bottom line.
With this in mind, below are three main ways that Facebook Stories can be used for marketing and branding:
Give your audience an insider view
People love being insiders with exclusive access to their favorite brands. By offering behind the scenes access, through Facebook stories, to; office parties, product lines, conferences, or just sharing scenes from the office you will make your audience feel like connected to you by humanizing your brand. This, in turn, increases engagement and creates a loyal following that is a lot easier to market to.
Show up and offer value unscripted
With Facebook stories, all you need to do is show-up and provide value. There is no need to perfect scripts and offer huge production value to market your ideas. As such, Facebook Stories allows marketing to simply rely on sharing expertise or information as the vehicle for success in reaching out to audiences.
Share valuable and exclusive content
If you make people excited about viewing your stories, then you will always have direct access to promote your ideas and market to them. This excitement can be easily created by offering valuable and exclusive content that allows people to feel special. Valuable content is informative, educative and engaging while exclusive content can include new content, discounts or special offers.
What is Snapchat Stories?
Snapchat plays the role of both a social network as well as a messaging platform. Snapchat allows users to use their smartphones to chat with their friends by sending pictures or 10-second videos. A simple way to think about it is texting through videos and pictures.
One of the defining features of Snapchat is the ephemeral quality of all the content that is shared on the platform. Essentially, content gets deleted just a few seconds after the receiver has viewed it.
The images and videos shared have the characteristic feature of being manipulated in fun and exciting ways to add value to what would probably be a very mundane or ordinary visual experience. Snaps can be edited through the use of Snapchat filters, effects, geofilters, drawings and text captions.
Snapchat also features a Snapchat Stories feature through which users have a feed feature where they can share videos and photos with their friends as a story clip as opposed to just a specific individual or as a group message. Stories disappear after 24 hours.
Snapchat Stories That Have Worked
Snapchat stories were initially not as easy to pull off as Instagram or Facebook stories. That being said, they are well worth the effort since they allow brands to reach a target millennial crowd that seems to easily gravitate to Snapchat stories as their chosen social media platform.
Some of the brands that have successfully used Snapchat stories for business and marketing include the following:
Audi and the Onion
Both Audi (car manufacturer) and The Onion (a satirical news site) released fun stories throughout the 2016 Superbowl for viewers that wanted to watch something apart from football. In a campaign tagged 'all news that isn't football,' Audi and the Onion generated more than 37 million impressions and 100,000 total views through their Snapchat stories.
Cisco
Instead of keeping a focus on just their products marketing campaigns, Cisco chose to focus on their employees by using Snapchat stories as a window to an inside perspective of the company.
According to Cisco, the highly successful Snapchat stories campaign dubbed wearcisco 'a day in the life of…' garnered a 600% follower increase every week from its inception and a 70%-80% rate of story completion.
Netflix: Gilmore Girls promotion
Through the Snapchat stories campaign to promote Gilmore Girls on Netflix in 2016, over 200 coffee shops were used to recreate Luke's café from the show. 'Snapcodes', (Snapchat's version of QR codes) were used on free 'Luke branded cups of coffee' to direct customers to a custom filter that they could apply their photos to. The Netflix filter reached 500,000 people and was viewed 880,000 times for the one-day stunt.
How to Use Snapchat Stories for Marketing
Now that you know Snapchat stories can be effectively used for marketing and promotions through the above examples, isn't it time that you create a Snapchat business account for your marketing needs? Below are some ways to use Snapchat stories for your business marketing purposes:
Sharing big events and milestones
You will probably not create a massive marketing campaign surrounding the achievement of a milestone or for the preparation of a big event. That said, letting it all pass by without some marketing should not be an option. You can use Snapchat stories to capture the moment in a fun and engaging way for your audiences.
Offer deals
As with the Netflix-Gilmore girls example, you can offer deals like free coffee as well as exclusive filters and such to your customers or audiences to drive traffic and engagement.
Brand Loyalty
You could, for example, offer deals or discounts to those that watch your Snapchat Stories right up to the end. You could also provide instructions on your Snapchat Stories that can get audiences free gifts or coupons. You could do this by for example asking them to send snaps of themselves using your product or service. All this can increase or encourage brand loyalty.
Other ways to efficiently use Snapchat stories for marketing include:
Promoting a more elaborate marketing campaign on other platforms and your website

Promoting traffic towards your other social media platforms

Partner with micro-influencers on Snapchat to grow your following on the platform
Stories on Snapchat, Instagram, and Facebook and Influencer Marketing
According to Collective Bias, a shopper focused influencer marketing leader, 70% of millennials prefer peer endorsements when seeking to purchase products. Since Stories on Snapchat, Instagram and Facebook offer influencer-friendly tools, they are the perfect match for influencer marketing.
Below is a brief examination of how each tool can be used efficiently:
Instagram
The polls feature, in Instagram Stories allows an Instagram influencer to post a question to followers and get real-time feedback. Brands and influencers can use this tool to encourage audiences to share and provide unbiased feedback about the brands and to learn more about brand products and services.
Preferences, suggestions, and concerns can then be immediately addressed or used to inform future campaigns and product development strategies.
Snapchat
Snapchat has recently rolled out the conversion tracking Snap Pixel feature for brands that can be used to not only measure conversions but also to retarget site visitors and create niche audiences. Although this feature is only available to brands, brands can partner with influencers to create content or to sponsor products and services to loyal influencer audiences.
Facebook
One of Facebook's more recently added features is the ability for brands to promote influencer posts directly. Through this feature, brands can easily retarget relevant influencer content in a streamlined and transparent manner and therefore also manage multiple influencers at the same time.
Over to you
Deciding who tells a better story between Instagram, Snapchat and Facebook are entirely up to you and how you choose to use the tools available to you. At the end of the day, you can succeed with any one of the tools. Of course, there is also nothing stopping you from using all the tools before deciding the best approach for your brand going forward.