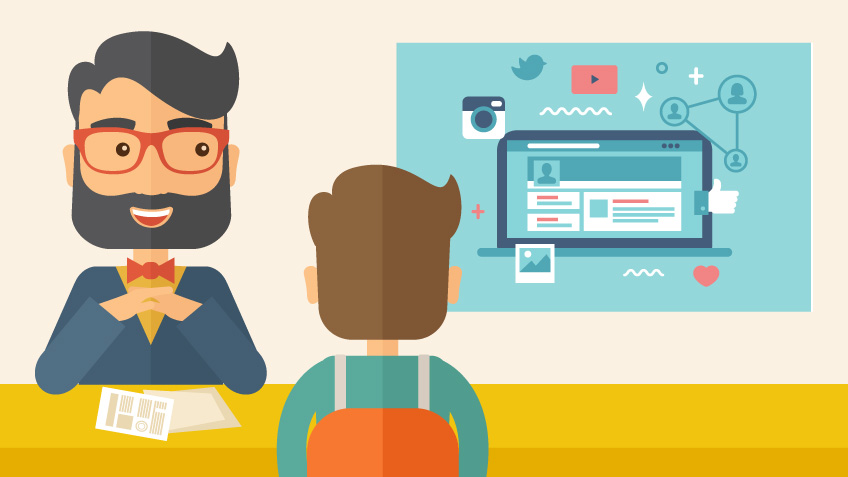 Thinking about how to crack your social media interview?
Not sure what social media interview questions are asked?
Read this article to learn more about how to crack your next social media interview. It could make all the difference between bagging the social media role of your choice or losing it to someone else.
Digital marketing is constantly changing. In fact, it wasn't too long ago that marketers were questioning if social media was even worth their time. Now, social media is an integral part of any successful digital marketing strategy.
Considering that this change in thinking is still in its infancy stage, there are tons of employment opportunities in this space with great growth potential. The only trick is getting past the interview to land your dream social media job. Of course, this task does become easy if you are the proud owner of a social media certification, which can tell employers about your commitment to learning new skills. However, no matter how qualified you are for a position, you're going to do well by preparing for the social media interview questions that will be presented to you. Social media interview questions will vary depending on the position you're applying for, but every interviewer is looking for high standards and the potential for growth in their candidates.
Here are some of the top social media interview questions to help you prepare, starting with some for SEO beginners and leading up to more advanced social media specialist interview questions.
Social Media Interview Questions for Beginners
Congratulations, you've landed your first social media interview. You're excited but have no idea what to expect from the interview. Before the big day, it's a good idea to brush up on social media marketing as much as possible. TThere are so many intricacies, that it's easy to overlook something important.  A publication like social media for dummies can help lay it all out in an easy to understand format.
Once you've brushed up on social media basics and terminology, it's time to prepare by getting an edge up with the most common interview questions for social media marketing positions. Here are a few to get you started.
Social Media Interview Question 1
: What is social media marketing and how can it benefit our business?
Answer: Social media interview questions like this are looking to test your basics. Begin by explaining what social media marketing is and how it can be used.
An example of an answer to this social media interview question is given below. 
Social media marketing is the practice of using social media platforms including Facebook, Instagram, Twitter, LinkedIn, etc. to promote brand awareness and generate traffic to the business's website. The goal is to attract high-quality leads that will eventually turn into customers.
It can benefit a business in many ways, including providing valuable customer insight and increasing brand loyalty. While social media is also one of the best tools for increasing brand visibility, it also establishes better lines of communication and engagement between a brand and its customers.
Social Media Interview Question 2:
In one word, tell me what it takes to succeed in social media marketing.
Answer: Authenticity. Audiences are attracted to the transparency of social media and the ability to get to know brands intimately. Authenticity in everything you do is going to establish respect and trustworthiness for any brand.
Keep answers to social media interview questions like this one short, crisp and to-the-point. 
Social Media Interview Question 3:
Which social media platforms my business have a presence on?
Answer: This is a common social media intern interview question. Arrive at the interview prepared for this question by doing your research on the company. Understand their demographic, their message and their marketing goals. Then, determine which social platforms are best suited for helping them reach those goals, and explain why.  For example, a professional demographic for a B2B company means they need to be active on LinkedIn. Similarly, a brand that caters to young adults is missing opportunities if they're not on Instagram and Snapchat.
Social Media Interview Question 4:
Name a piece of content that you've seen recently that you've loved.
Answer: The interviewer isn't trying to find out more about your personal interest with social media questions like this, but is instead assessing your eye for high-quality content. Your answer shouldn't focus on the subject of the content. It should focus on what it was about the content that made it enjoyable.
Was it written by a master wordsmith, or maybe it was engaging live content that caught your attention? Share your insights about why you loved it and how you would apply the same concepts to your own social media strategy.
Social Media Interview Question 5:
When is it best to not engage on social media?
Answer: This question is all about judgment. It's especially important for damage control to respond promptly and appropriately to negative comments. However, we all know that some commenters are only on there to get attention and cause trouble, and it's best to not engage with these people.  Often times, innocent responses "fan the flames," per se, and make a bad situation even worse.
Show the interviewer that you know the difference when you must and must not engage. Highlight how this skill can protect their reputation by being prepared with an example that you have seen. If you don't yet have personal experience with this, that's fine too. Mention a brand that you've noticed has done an exceptional job of engaging with their audience while not caving into trolls.
Social Media Interview Questions for SEO Specialists
SEO and social media are intricately entwined. The social media marketing interview questions for these positions are going to be aimed at uncovering how well you understand this relationship.
You know that social media and SEO both help build an audience. This interview is where you get to dig in and define how they each expand brand visibility and why they're natural partners.  This is your time to shine.
Here are a few of the top SEO and social media coordinator interview questions.
Social Media Interview Question 1:
Tell me about your SEO experience and how it relates to social media.
Answer: There are multiple things that the interviewer is looking for with social media interview questions like these. They want to make sure that you understand key points like Google's algorithms and how they apply to social media.  So, mention key points like keyword usage, content creation, local listings and link building from social channels. It's important to mention current changes. These changes could include examples such as Facebook's recent change in the algorithm used to display preferred content on each user's feed.
Social Media Interview Question 2:
Which social media tools do you use?
Answer: The interviewer is going to expect you to be experienced in using social media tools like HootSuite, BuzzSumo, CrowdBooster, and/or Sprout Social. Be prepared to highlight those that you have experience with, as well as how you leveraged them and what your results have been. For added "oomph," mention a tool that you've been interested in trying but haven't had the opportunity to experiment with yet.
Social Media Interview Question 3:
How would you respond if Google devalued one of your most trusted SEO strategies?
Answer: Google makes hundreds of changes to its algorithm throughout the year. Most of them are small and barely detectable in SEO, but occasionally an update will come along that really shakes things up.  At some point, a trusted SEO strategy will lose steam. Here's your opportunity to discuss how Google adapts its algorithm and how you would approach restructuring your strategy.  This question is all about how you handle challenges and adversity.
Social Media Interview Question 4:
What social media strategies do you plan to implement to generate more leads?
Answer: The company you're interviewing with is going to expect you to produce a good ROI for their social media investment, and this means generating leads. You should familiarize yourself with the social media platforms the company is currently using and understand their unique strengths and weaknesses with SEO. If you see potential in a network they're not currently using, be sure to mention why and how it could be an asset.
Social Media Interview Question 5:
How did you generate traffic in your last position?
Answer: Arrive at your interview prepared with not only answers to this question, but with data to back them up. If you haven't already, now's the time to update your portfolio to include examples of how you've boosted traffic for previous clients.
Social Media Interview Questions for Managers
One of the best ways to prepare for this type of interview is by imagining that you were in the interviewer's position. Start by making your own list of social media manager interview questions. What's on your list and how would you answer each question?
Once you've made a list of potential question. You can go through your own list and prepare further. Review this list and see how you would want these social media interview questions to be answered.
Here is a list of the most common social media interview questions asked to managers during an interview.
Social Media Interview Question 1:
How do you measure social media success?
Answer: Mention the key factors you look for in determining success, such as an increase in followers and leads, number of new inbound links to your site through social platforms, engagement and shares, amount of new traffic generated, and an increased conversion rate.
Social Media Interview Question 2:
How do you respond to a social media crisis
?
Answer: Do not answer this social media interview question by saying you can prevent a crisis from ever happening. This tells the interviewer nothing about you, other than you have an over-inflated ego. Instead, outline a methodical approach to a crisis.
When you face a social media crisis, the ideal steps of action are:
Start by responding quickly. 

Negative remarks can fester into something larger when left unattended

Let the audience know that you care about their concerns.

Acknowledge the crisis and get all the details you can
Additionally, you should mention how you would use sentiment analysis to track what people are saying about your brand so you can stay ahead of a looming crisis.
It's your job to prove to the interviewer that you have a keen sense of judgment. With this question, interviewers decide if you are capable of deciding if a resolution is possible on social media, or if the conversation needs to be taken off social media and resolved independently.
Social Media Interview Question 3:
What is our competitor's social media strategy and what do you think of it?
Answer: Be wary of social media interview questions like this one. Research the company's biggest competitors and dig into their social media strategies. Being prepared for this question shows the interviewer that you took the time to learn about the company. This prep work includes the deficiencies of their competitors. These deficiencies present significant social media marketing and SEO opportunity.
Social Media Interview Question 4:
What goals should we set for our social media strategy, and what does the road to reaching those goals look like
?
Answer: Outline one or two specific goals and how you would reach them. For example, perhaps you've noticed that this company would benefit from increased brand engagement. You could start by researching their social media demographic to help you define a content strategy. From there you would determine the most important metrics for measuring success in achieving this goal. These metrics include clicks, engagement rate, and hashtag performance. The interviewer isn't looking for a one or two-step process. They want to see evidence of methodical thinking.
Social Media Interview Question 5:
We're thinking of running a free contest on Facebook where all our followers need to do is like and share our regular posts to win. What do you think of this idea?
Answer: Social media interview questions like this one are a test of your knowledge of the rules and guidelines for each platform. Facebook doesn't look fondly on "clickbait" posts, so running a contest like this could get the account temporarily locked.  Plus, while engagement numbers will climb while the contest is taking place, they will flat-line again once the contest is over. This short spurt isn't going to do anything to help with sustainable, long-term organic reach.
Are you ready to make the next move in your social media career? Let these social media interview questions serve as a springboard for propelling you along the way. You're worthy of that job you're applying for. All you need to do is show them that the choice is easy!