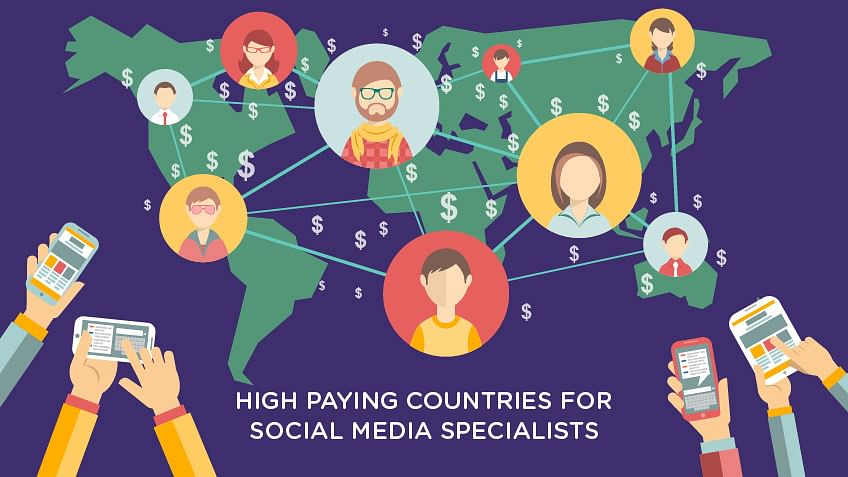 Social Media Marketing (SMM) is simply an organized system of achieving marketing goals through social media sites like Facebook, Instagram, Twitter, Pinterest, LinkedIn and YouTube. However, the actual process of doing that effectively requires expert marketing ability, knowledge of human behavior, data analysis and other valuable skills which a Social Media Marketing Specialist must have.
How to become a Social Media Marketing Specialists know more.
Brief Introduction about Social Media Marketing
Being a form of internet marketing, social media marketing specifically focuses on creating and sharing content in social media networks. Such content include text, images, videos or any type of content designed to drive audience engagement. It may also include paid social media advertising.
For a successful social media marketing campaign, whatever activities are carried out must be centered on the company's marketing and branding goals.
How Social Media Influences Business Growth
Jason Stone's MillionaireMentor Instagram account is an incredible example of monumental business growth influenced by social media. Through strategic partnerships with other entrepreneurs on Instagram and producing valuable content for his followers, he amassed 2.5 million followers. He then capitalized on this to net sales worth $7 million in one year, by sharing carefully selected affiliate offers.
Increased sales are just one of the ways social media can influence business growth. The following you get through social media sites can:
drive up website traffic
raise brand awareness
create a positive brand association
build brand identity
improve targeted communication and interaction with specific audiences
serve as a support desk for existing and potential clients
build greater influence
serve as an alternative advertising platform
High Paying Countries for Social Media Marketing Specialists
Although social media marketing is a global phenomenon utilized by businesses in virtually every country in the world, certain countries stand out with the greatest investments in it and having the most influential companies. Hence, Social Media Marketing Specialists in such countries naturally earn the highest pay.
Social Media Specialist Salary – Top 10 Countries: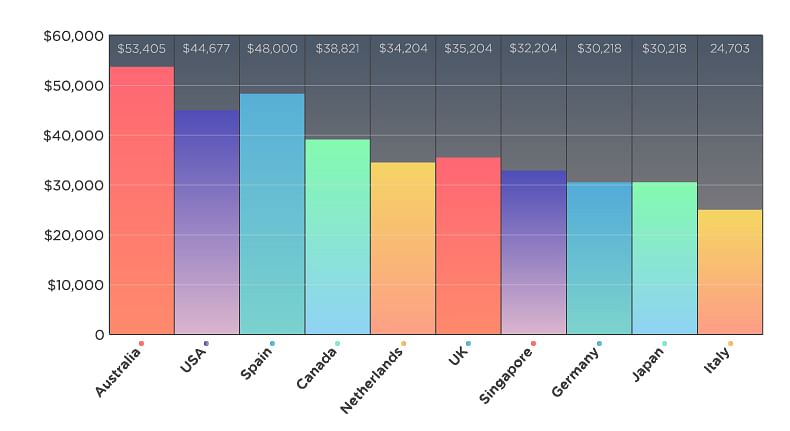 Australia
Social Media Specialists in Australia earn an average salary of AUD 70,272 (USD 53,405.31) per year. It's one of the highest paying countries for Social Media Specialists, with salary ranges between AUD 34,000 and AUD 136,000 (USD 25,839.32 – 103,357.28).
Unites States of America
According to PayScale, Social Media Marketing Specialists have a salary range between $36,000 and $69,000 per year, with the median salary being $45,860 per year.
Neuvoo gives the average salary for Social Media Marketing Specialists as $44,674 per year, which is $23 per hour. This is about 1.5 times higher than the US median wage.
Spain
Based on an experience of 3 to 15 years, a Social Media Specialist in Spain earns between €35,000 (USD 39,905.25) and €50,000 (USD 57,007.5).
Canada
The average Social Media Marketing Specialist's salary in Canada is C$50,000 (USD 38,821.38). This is higher than the overall Canadian median wage of C$32,790 (USD 25,459.06), and doubles the Canadian minimum wage of C$20,378 (USD 15,822.04).
Here, most Social Media Marketing Specialist professionals start off at a low of C$32,368 (USD 25,131.41), which increases to a high of C$56,278 (USD 43,695.8) for experienced professionals.
Netherlands
Netherlands offers Social Media Specialists a median salary of €30,000 (USD 34,204.5).
United Kingdom
£27,301 (USD 35,204.64) per year or £14 (USD 18.05) per hour is the average salary for Social Media Marketing Specialists in the UK. It's similar to the UK median wage.
The actual salaries range from a low of £19,000 (USD 24,500.5) for entry-level positions, to a high of £38,000 (USD 49,001) for experienced workers.
Singapore
Entry-level Social Media Specialists in Singapore earn a median salary of S$45,000 (USD 32,560.35). Such salaries typically range between S$36,000 and S$55,000 (USD 26,048.28 – 39,795.99).
Germany
The average net monthly salary of a Social Media Marketing Specialist in Germany is USD 30,218.
Japan
Social media specialists in Japan earn an average net monthly salary of USD 30,218.
Italy
Looking for work as a Social Media Marketing Specialist in Italy, you can expect an average salary of €21,667  (USD 24,703.63) per year, which translates to €11 (USD 12.54) per hour. This is 1.4 times higher than Italy's average salary.
Entry-level positions have a low of €15,000 (USD 17,102.25), while experienced professionals can command salaries as high as €30,000 (USD 34,204.5).
Social Media Marketing Career Path
Starting as a Social Media Marketing Specialist, you can advance your career to higher level positions.
To succeed, start by advancing to these higher level positions directly related to social media marketing:
social media manager
social media director
social media strategist
Thereafter, you can move on to these higher level positions indirectly related to social media marketing:
digital marketing manager
marketing director
senior marketing manager
digital strategist
online marketing director
Conclusion
Considering the enormous influence social media continues to have on business growth, demand and pay for Social Media Marketing Specialists is likely to increase globally. Moreover, the profession has immense potential and multiple opportunities for career advancement.
Interested in Social Media Specialists/Experts? Check out Market Motive's Social Media Marketing training course.