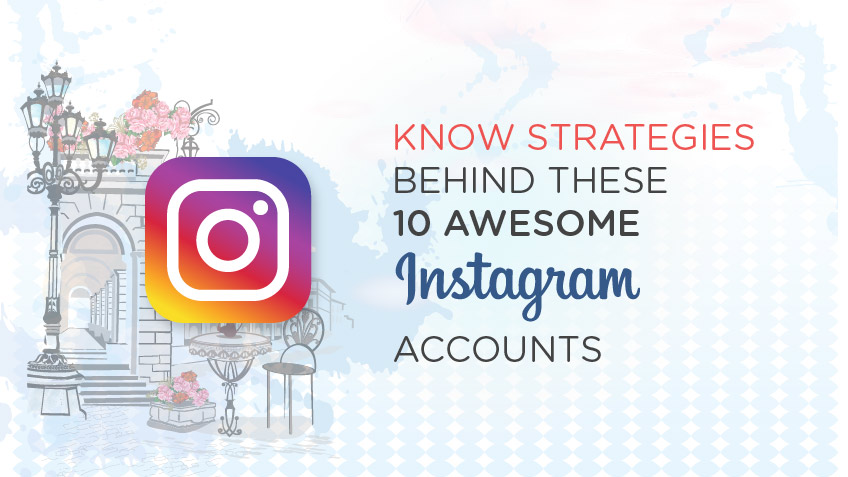 It is now a well-known fact that Instagram is no longer limited to celebrities showing off their swanky cars and lavish lifestyles. It now has a subset called Instagram Business that has now become a goldmine for brands worldwide, be it a new startup or a well-established brand. This field of digital marketing is new and brands of all sizes have jumped on board. 
The statistics mentioned below are a testament to the reach that Instagram has globally.
There are 800 million Instagram users worldwide

80 % users of Instagram are not from the US

More than half of American Instagram users are under 30

4.2 billion posts are liked each day

There are 25 million businesses on Instagram

80% of all users follow a company
[Source]
In today's world, it has become important to present content visually. While Instagram is the way to go here, not everyone gets their Instagram Business strategy right. A social media course goes a long way in helping you get your Instagram marketing strategy right, but for those who just don't have the time, there is always this article.  
In this post, we will speak about a few brands who own and flaunt their Instagram Business accounts.
Sabyasachi
At Sabyasachi, they don't sell products; they sell an experience. With exclusive designs and photoshoot done around them, SS follows a vintage theme for their Instagram account, which has more than 2 million followers. And boy, do they know their magic filters! Don't worry you don't need a designer to own an Instagram page like Sabyasachi. All these graphics and more listed in this post can easily be created with free graphic design tools like Canva.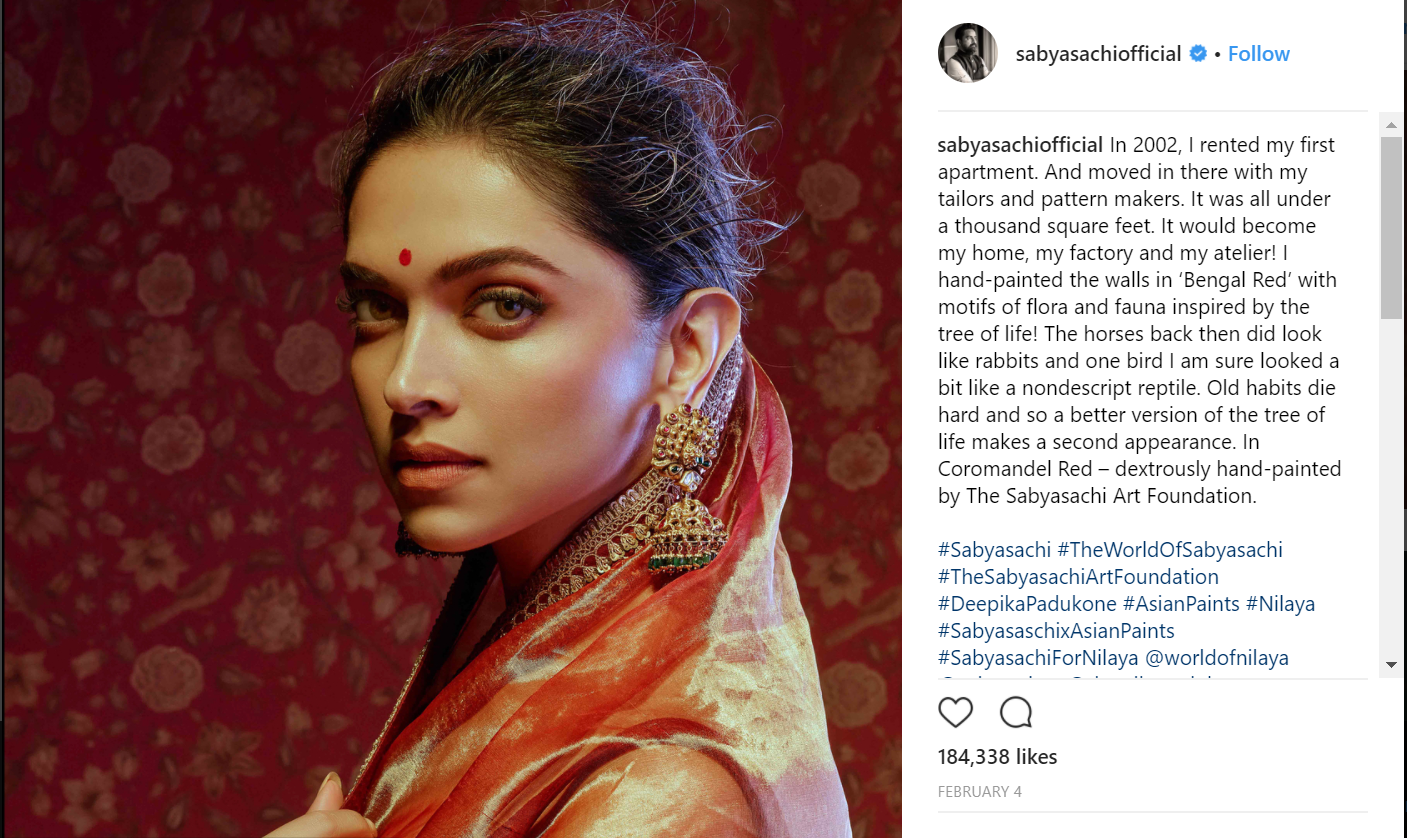 Takeaways:
Make Use of your Happy Customers. Sabyasachi features their customers on the official Instagram profile. This helps them in creating more engagement among their audiences.

Share stories: They share not only well-shot pictures but also the complete story which revolves around the collection. This is storytelling at its best and helps customers relate to the thought behind the product.

Get Influencers on Board: Sabyasachi recently got Deepika Padukone on board. Getting influencers to engage with you helps get exposure as these influencers have their very own huge follower base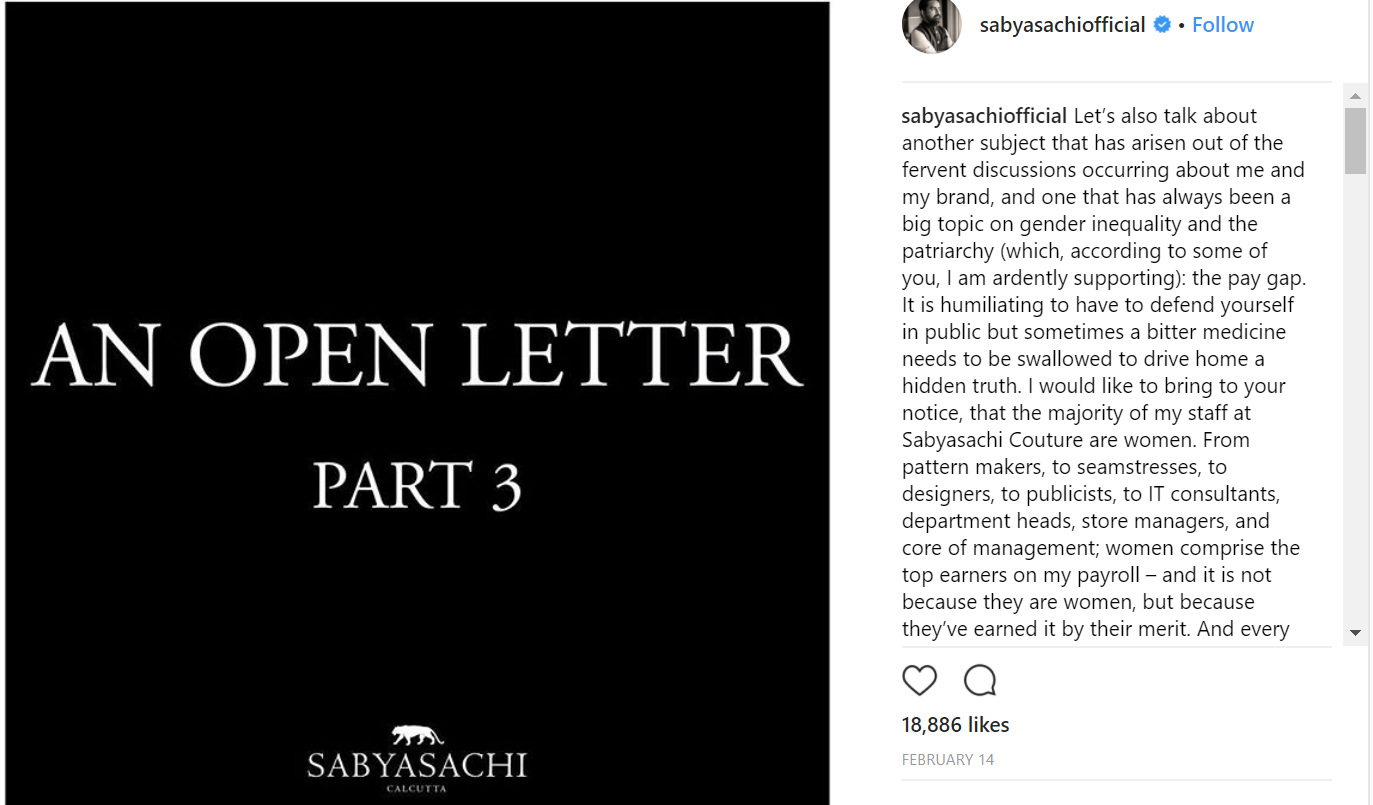 Reputation Management: Social media is not just about the selling. It is also about connecting with your audience at a personal level. This social media characteristic means that you could come off as cold and thoughtless if you don't post personal content. However, on the upside, it could also mean that social media accounts are a great way to manage your brand's reputation. If controversy surrounds you, using your brand's account to dispel untrue information (or apologize for true ones) are a great way to handle unpleasantness. In this regard,

Sabyasachi

knows more than just elaborate embroidery.
IKEA
IKEA is one the most popular home furnishing brand since 2008. Ikea's Instagram Business account is popular with millions of fans across the globe. Their "solve it in a snap" video series is a beautiful example of an engaging Instagram post. You can pick a leaf or two from IKEA's Instagram account and learn to engage your audience in new innovating ways.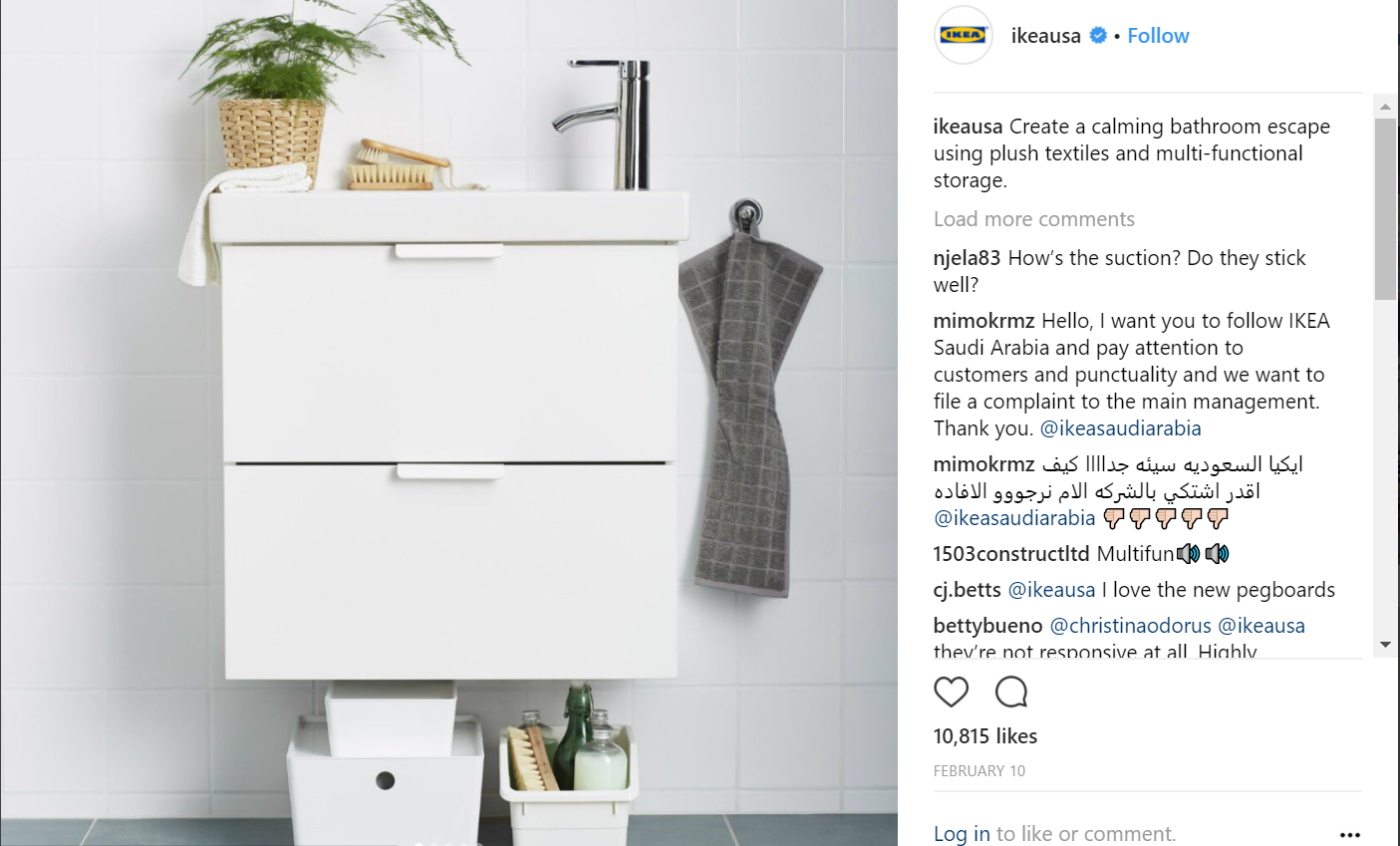 Takeaways:
Engaging with creative posts or campaigns:  

IKEA PS 2014

campaign on Instagram Business is a whole new level of creativity. They created an entire website on Instagram with the help of tags. Once you tap on a photo, you can see a bunch of tags, and when you click on them, it takes you to the Instagram LP of that category. Try it yourself!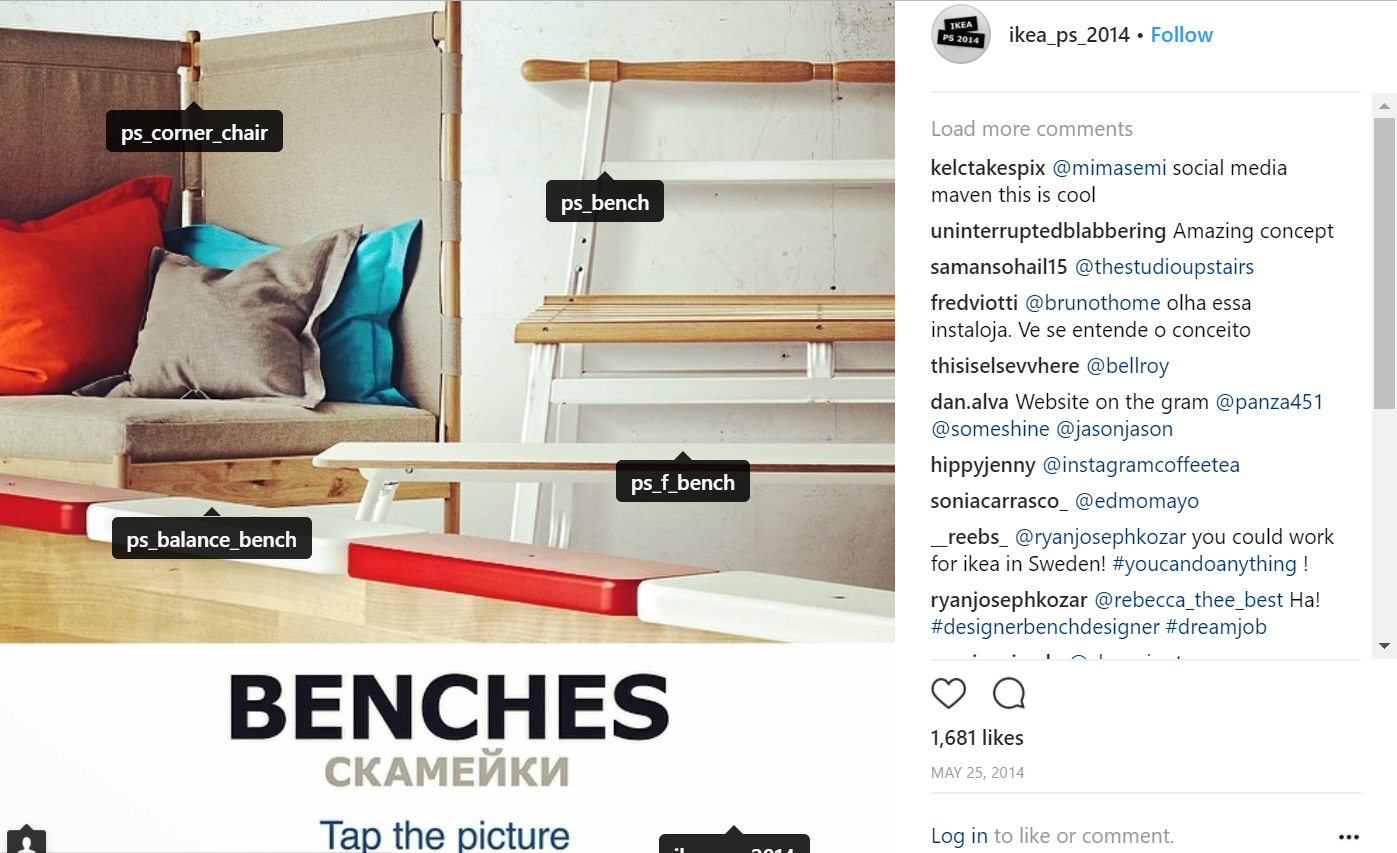 Captivating Ad that sells: IKEA doesn't feature a direct sales ad. Instead, they choose to follow a blended approach. Its key to success is the perfect mix of product & non-promotional images. Its elegantly curated Instagram Business content is bound to inspire followers to buy a new piece of furniture.
CocaCola
Coca-Cola is a name not unknown to anyone – from a 10-year-old kid to a 60-year-old man. Its clever marketing strategy combined with the cheerful motto of "Sharing happiness" has made Coca-Cola a global brand. Where there is the talk of creative marketing strategy, there is Coca-Cola. The marketing team in Coca-Cola firmly believe in the phrase "creativity has no limits," and this attitude is easily visible in their campaigns.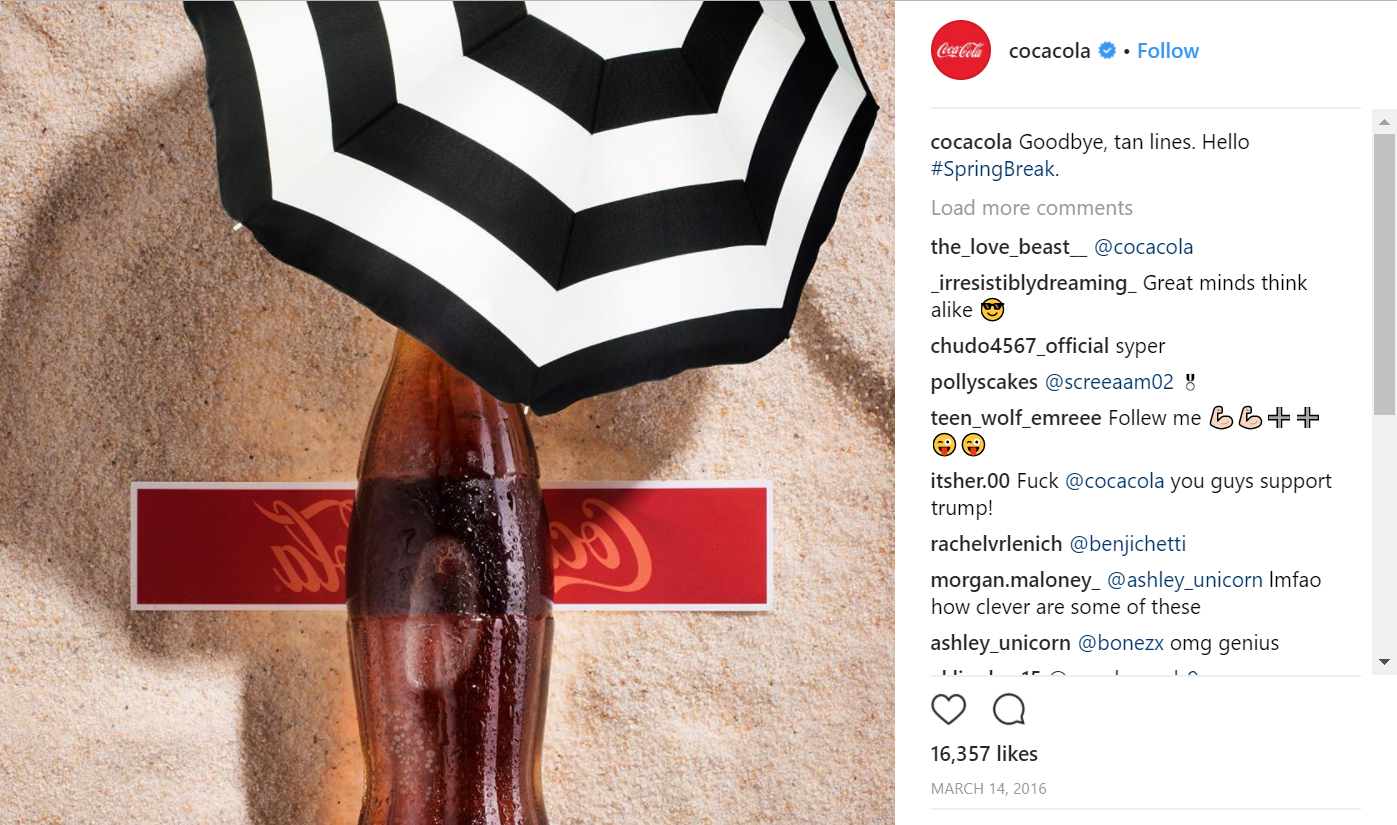 Takeaways:
Diversify your strategy but stick to your tagline: Coca-Cola keeps coming up with new ad series but retains an air of youth, happiness & thirst in all their campaigns. These ads embed themselves in your subconscious, tug at your emotions and ensure that you associate their brand with pizza, fun and hot summer days.

Influencer marketing: Apart from their regular posts, Coca-Cola is known for planning viral campaigns like the "Share a Coke" campaign. To boost these campaigns, Coke makes use of Instagram influencers. These influencers are carefully chosen on the basis of their followers' demographics and reach. Once set, they encourage these influencers to post about a campaign with relevant hashtags, videos, and images. This helps spread the word, create a buzz and raise the engagement level of their posts.
Paperboat
Perhaps the youngest in the list, Paperboat has managed to create a completely new segment of social media engagement with their heartwarming stories that make you reminisce your childhood days. Studying their social media profile could help you connect your brand with people's emotions.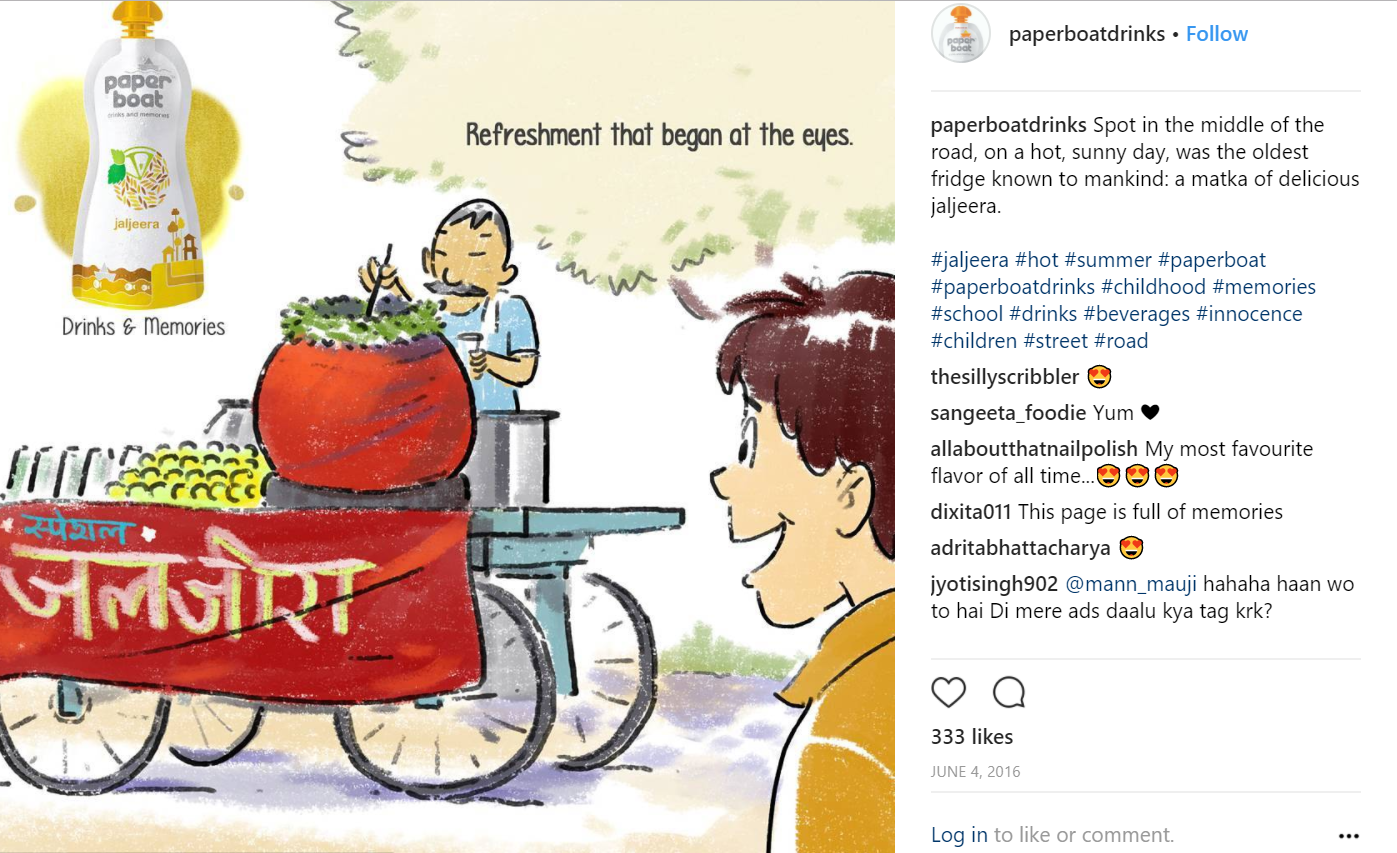 Takeaways:
Tailored Content: The Paperboat social media team uses unique content for their Instagram profile. Having content that customized to each social media platform helps in creating new audiences and a diverse content strategy. When brands can customize their content, then users who follow them one platform will not hesitate to follow them on another. Moreover, it's boring to see the same thing over and over again. Diversifying your posts can help avoid the rut.

Emotional Connect: Bringing back those memories is what Paperboat does best. As a user, you can relate to almost all the post they publish on their social media pages.

Interact with your audience: Paperboat is quick to reply to comments left by their followers. This habit could go a long way in encouraging users to interact more with them.
The Ustraa
Ustraa is a brand of its own. Targeted towards the young, Indian male, Ustraa has managed to create a thick layer of curiosity around the brand. What can you learn from them? No niche is too small to target if you've got the spunk for it.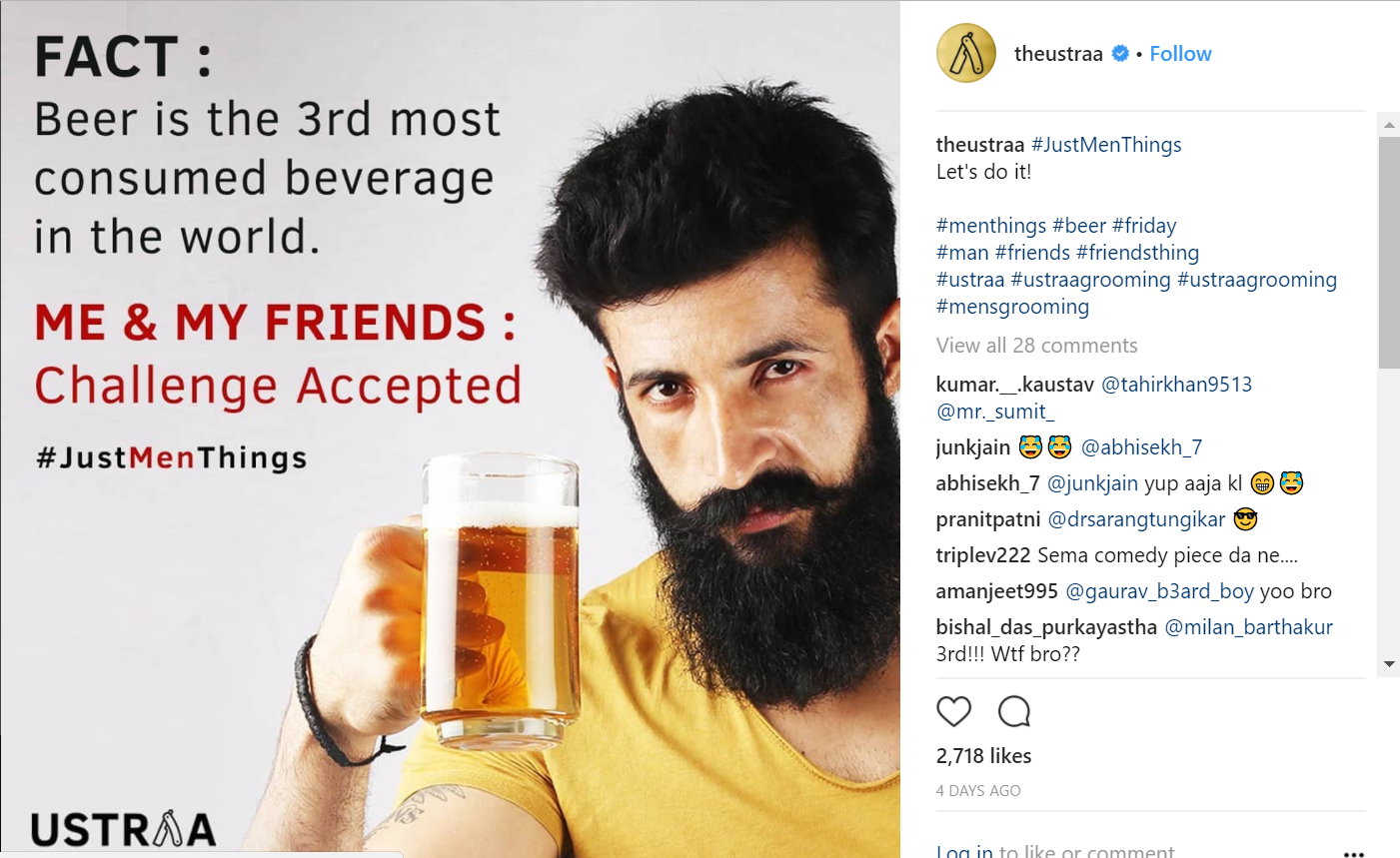 Takeaways:
Don't push: Ustraa does not believe in shoving their products on uninterested audiences. Rather, they are all about the charm. Instead of talking directly about their products, they focus on creating macho and witty content that the modern, metro man (aka their target audience) relates to.

Make it content-oriented: Their target audiences are modern, well-traveled and urbane youth. Little is known about this demographic and almost no brand has targeted this audience and lived to tell the tale. Except for Ustraa. They know their audience. They know what makes them tick and what gets them excited. This strategy is a sure-shot way to make people love your brand.
Chumbak
Chumbak means magnet. Chumbak works to produce souvenirs and curios that combine traditional Indian designs with contemporary patterns and colors. These products are vibrant, colorful and Bohemian.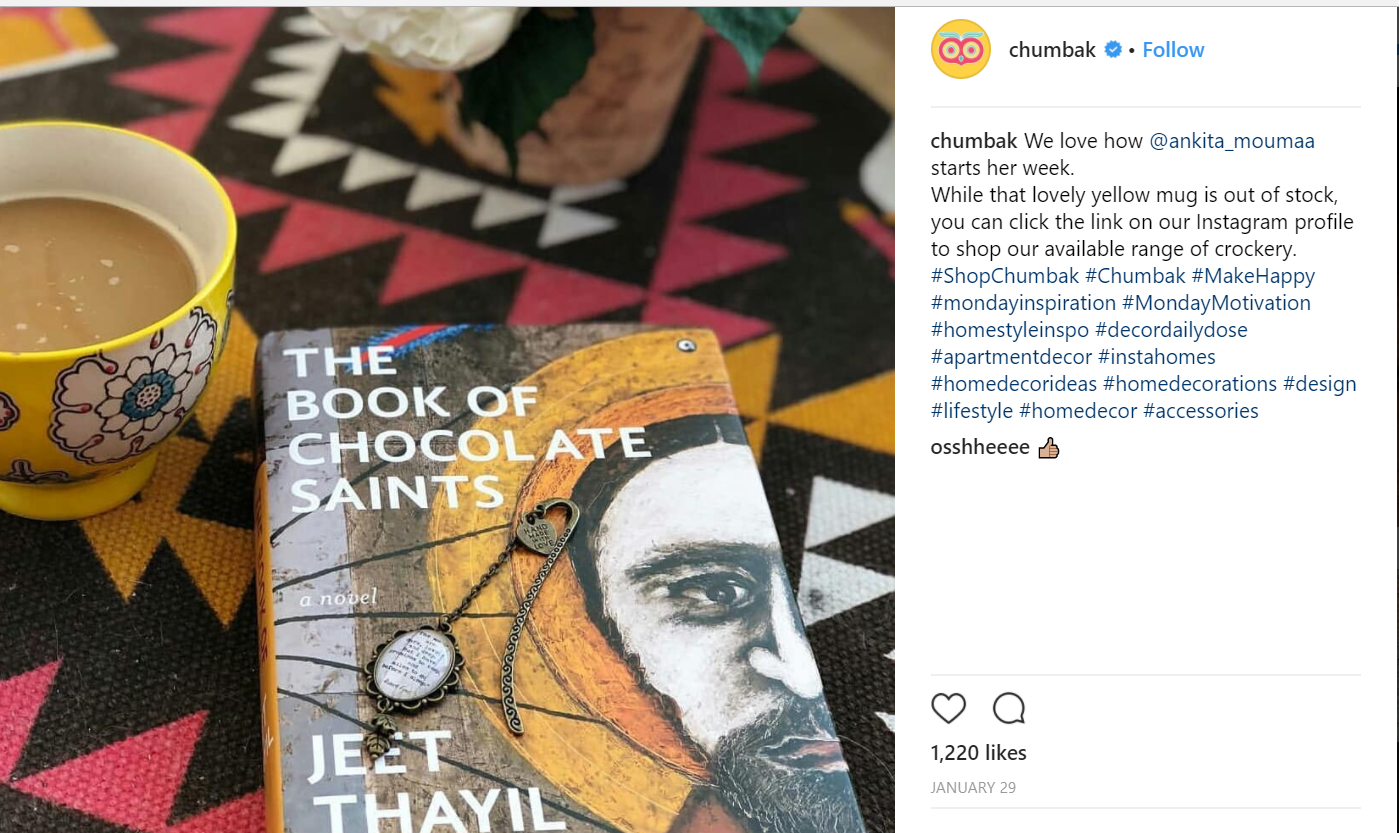 Takeaways:
User-Generated Content: Users maketh greatness. No social media account is worth anything without its followers, and Chumbak recognizes this. Chumbak recently launched a campaign where they asked their users to design a cup based on a theme. The post went viral with more than 8000 views, which is a lot more than their other posts.

Well-Crafted Product Shoot: The photographers at Chumbak manage to capture the essence of the products. They are highlighted, interesting and make people want to own them! These skills are not used enough if you ask us!
RAW Pressery
Fruits are naturally photogenic, and RAW Pressery knows that! This brand is one of its kind in India and provides users with cold-pressed fruits and vegetable juices. Health is their main motto, and they seem to stick to it. We picked this brand because they are a perfect example of sticking to your key message consistently in every post.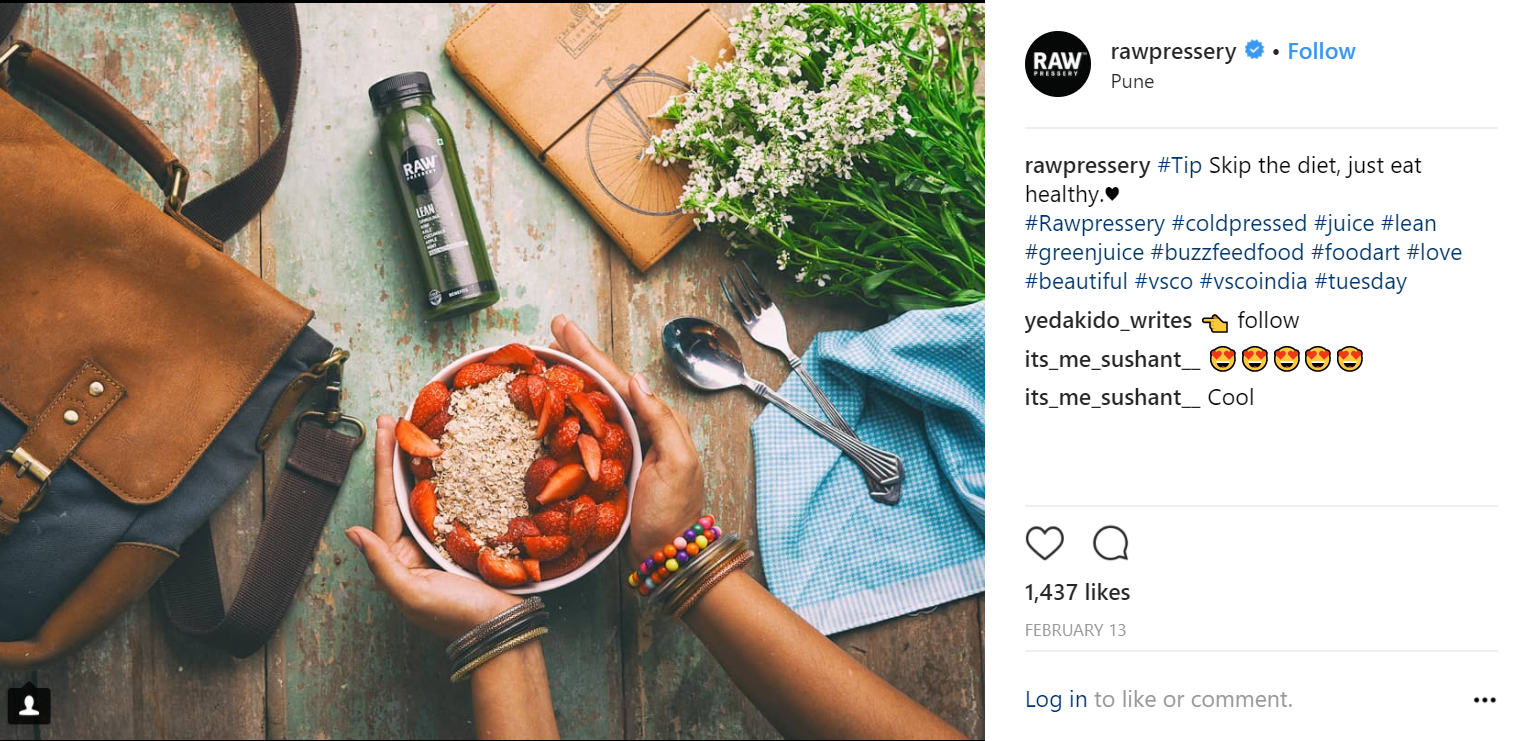 Takeaways:
RAW Pressery leverages the power of hashtags by mixing popular hashtags with their own ones. This piggybacking on hashtags gets them additional traffic without much effort.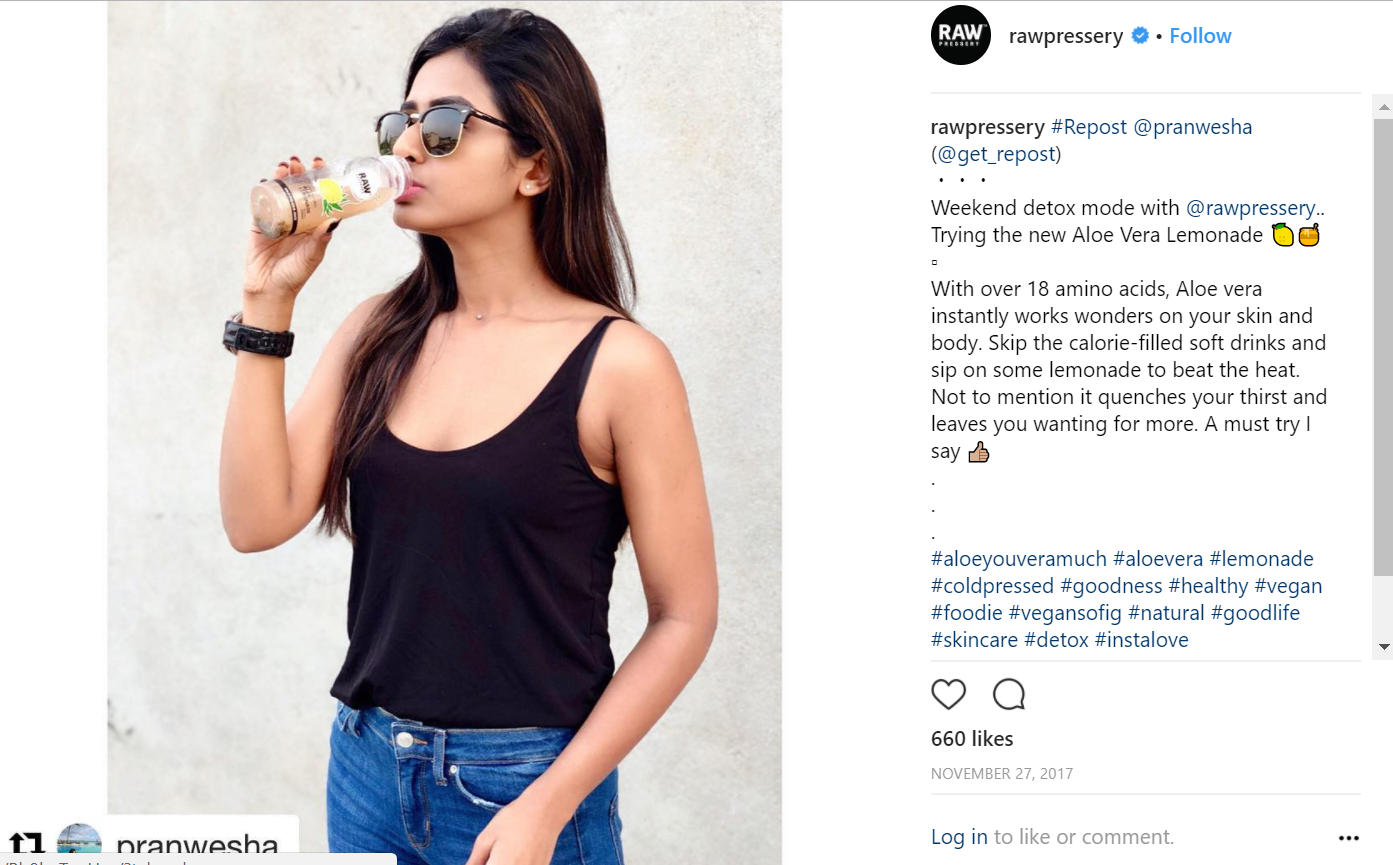 They make their consumers love them by featuring them on their official Instagram Business handle. This is a win-win situation for the brand and the users. Being featured on RAW Pressery's official account can help users raise their cool factor, while also raising the brand's popularity on Instagram.
Kingfisher
Kingfisher deserves the credit for making beer the common man's drink in India. Thanks to its branding efforts, the drink that was once considered taboo is now being served everywhere. It's no wonder that Kingfisher has the largest market share in India.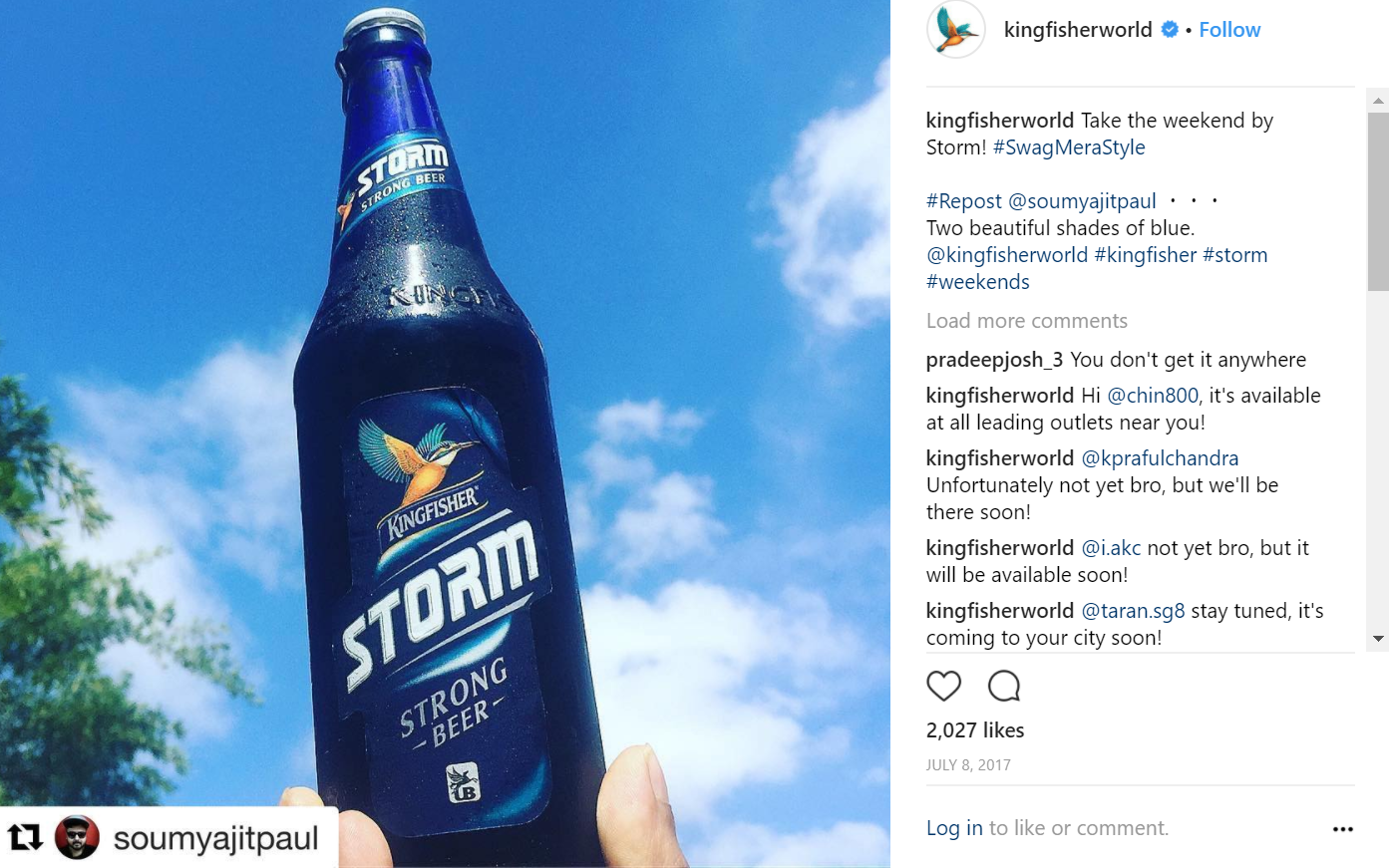 Takeaways:
Kingfisher is not just all bark and no bite. Their Instagram Business account is truly about being "The king of good times" (their slogan). They keep it casual and share pictures of people having fun, which, like Coca-Cola, helps audiences associate their products with good times.

Re-post user's post: Again, there is no better content than user-generated content. Kingfisher leverages that very well by reposting photos from their fans with hashtag #Goodtime & #Repost.
Vogue
Vogue is a globally accredited synonym for fashion. Their global Instagram Business profile is indicative of this with 17.5 million followers. However, they have a completely different approach when it comes to India. Vogue India is more than just fashion; it is also about raising social issues related to women. That isn't to say they shy away from beautiful and elegant photo shoots. On the contrary, they continue to master their avant-garde fashion shoots with a panache that only they are capable of.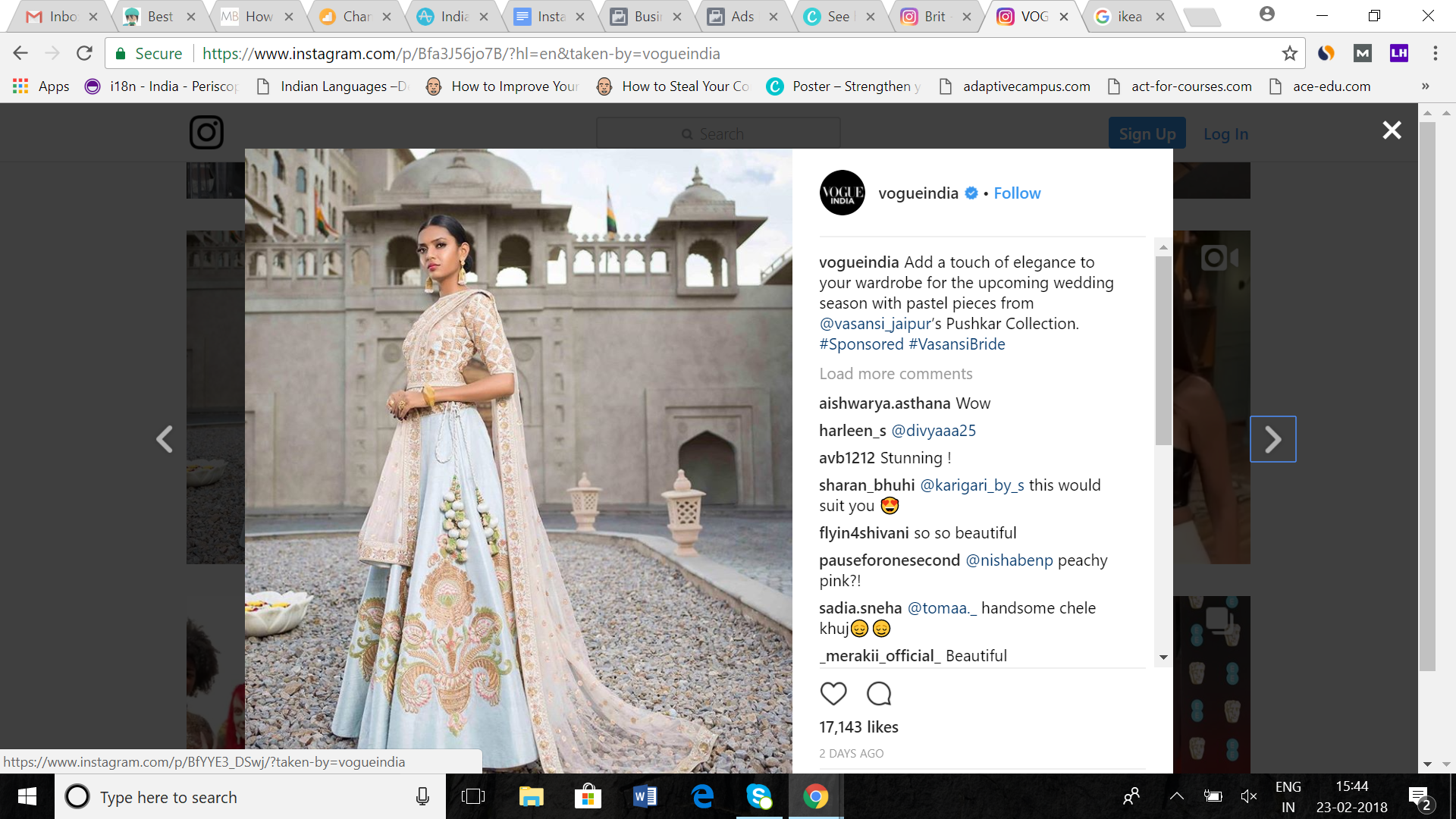 Takeaways:
Make Noise Where it Matters: By talking about issues like women empowerment and domestic violence, they give back to society while encouraging a much-needed dialogue about these issues.

Go all the Way: Vogue India also create videos related to these causes. They use popular celebrities to endorse these causes and help spread the word about the causes. Their

#StartWithTheBoys video

starring Madhuri Dixit is one such campaign, which was an instant hit and still gets them traffic.
Zomato
Zomato doesn't have a lot of followers due to the niche they are working in. But that doesn't stop them from being awesome on Instagram Business.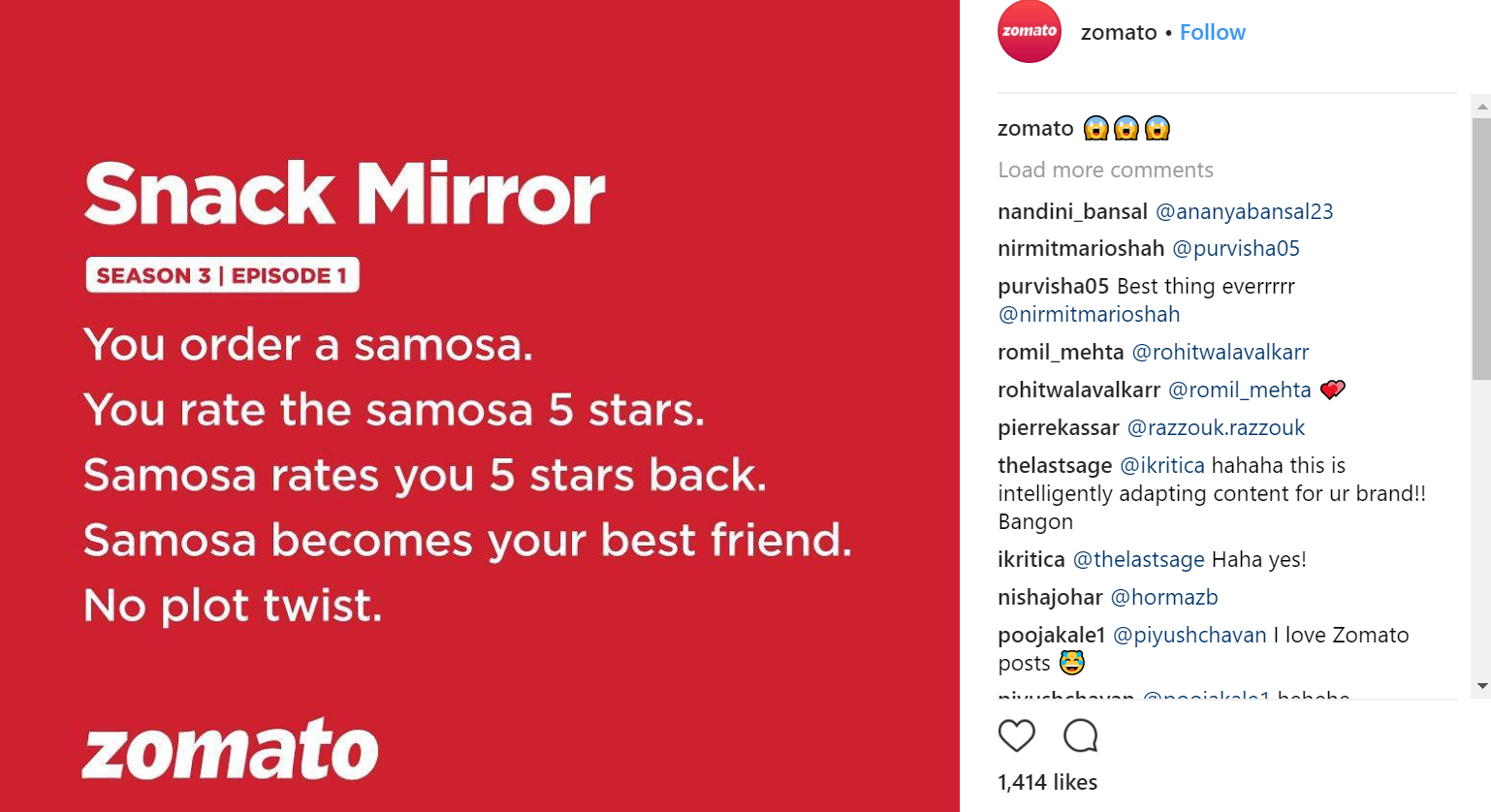 Takeaways:
Witty Content: Funny posts keeps the unfollow button away. With posts like the one given above, it is easy to see why Zomato keep on winning hearts. Such posts tend to get viral as they are liked and shared by many. Who doesn't want to share fun content on social media after all?

No fixed posting schedule: Quality trumps quantity. Always. If you cannot post great content every day, that's okay. Just don't post several mediocre posts. You'll lose followers, and it'll do you more harm than good.
There you have it, these brands have done great at their Instagram game. You can use these tidbits to up your Instagram game as well. After all, as Karl Marx says, it isn't about the brands if it isn't about the people (We're kidding, he didn't say that).
If you can think of more examples, then reach out to us, say hi, and tell us what we've missed.
Disclaimer:
This article was written by one of our guest writers. The author's views are entirely his or her own and may not be indicative of the views of Market Motive.
Author Bio
Prince Kapoor is Freelance Marketing Analyst and Blogger. While not working, you can find him in the gym or be giving random health advises to his colleagues which no one agrees on :D. If you too want some of his advise (on health or on marketing), reach him out at @imprincekapur