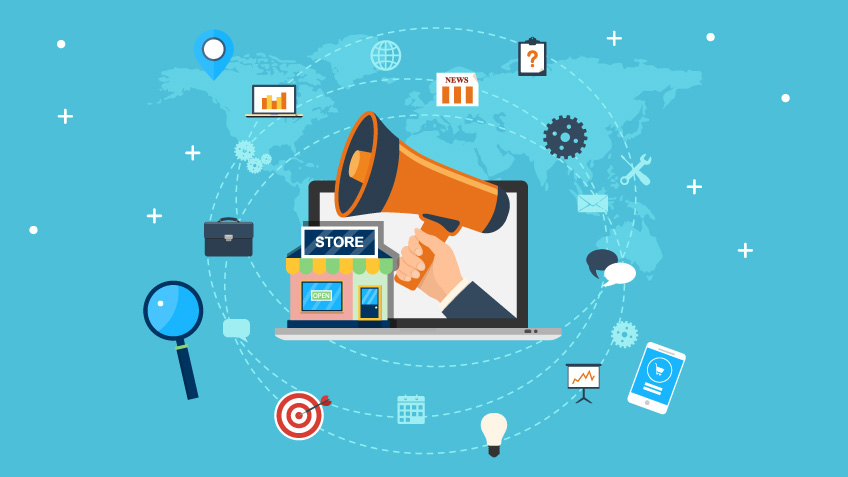 It's a new year and the upcoming trends in digital marketing will change the way small businesses reach target audiences. Digital marketing resonates with consumers when real-life stories, shared CEO moments and technology are used differently when compared to your competitors. Content marketing is all about the customer and what he or she needs. Thanks to this, it is here to stay and will continue to be king in the industry despite whether you sell food, clothing, real estate or pet food. Corporate and personal branding will continue to be a significant part of the customer experience. Digital marketing is important to help corporates build their brand (small or big). It is for this reason that professionals with a digital marketing certification are valued everywhere.
Here are some great digital marketing strategies for small businesses to follow. You can use them the next time you schedule a meeting with your marketing team.
Online TV Advertising Marketing
The first step to implementing a strong marketing strategy is communication. It is vital to get your team together and understand what the essence of a campaign is. Fortunately, there are several cloud software to help you and your team plan these projects without much hassle. Once, you've got the communication down pat, then you determine what kind of marketing strategy you should opt for.
Where do you want to invest – video or print? Once you've decided in which direction you are headed, then you must set the budget for marketing. YouTube is a fraction of online TV although it is the second most used search engine on the internet. Amazon, Apple TV, Netflix, and Hulu will be in the comfort of people's homes, and if you have the budget to buy product placement on these platforms, it is worth the investment, provided you research the demographics of viewers.
The Year of Apps
Most consumers survive in life with the help of an app. There is an app on the market for meditation, weather, a restaurant finder and more. How does it benefit you? Advertising your products or services on a popular app is the gateway to reaching consumers through innovation.
Before you get started, pay attention to Google's new strategy to remove mobile advertisements from favorite apps. To ensure your ad remains, ask your marketing team to provide high-quality graphics and content that will not be flagged for posting a 'shady ad'.
When you think about advertising on mobile, make sure you advertise in the right apps. Think about who your audiences are, their likes and dislikes. If your app is about fashion, will advertising in gaming app help? Probably, but chances are, you'll be spending more than you get.
Virtual Bots: The New Employee
Automated technology opens an opportunity for a team to focus on time-sensitive responsibilities as a bot communicates with customers on a web chat platform in the form of an app. It can offer products and services to solve customers problems. The bot works for you while you sleep. In turn, it can prevent loyal customers turning to competitors to meet their needs. Of course, many smaller businesses may shy away from this option because they think it'll cost them money, but a small investment in this direction could just increase your profits in the (not so) long run.
Unique Device ID Tracking
The cookies in internet browsers on smartphones are about to help businesses advertisements pop up at convenient times. It is called Unique Device ID tracking that posts ads based on where a smartphone user is located. For example, a person that is in a shoe store might notice an advertisement for a favorite shoe brand while browsing the internet.
Imagine the time a marketing team can spend developing strategies and reviewing analytics as a Unique Device ID does the hard work.
5. Photography in Moving Images
Image Source: https://blog.hubspot.com/agency/cinemagraph-facebook-ad-format
Graphic design and photography can capture a still picture with a touch of moving element innovatively using a series of images. The technology is called cinemagraphs if you haven't noticed it in Starbucks or Coca-Cola marketing. It brings life to a photo and is rarely seen on the internet; an opportunity for you to hone in on an image that can be shared by customers on social media.
Artificial Intelligence through Machine Learning
Machine Learning and Artificial Intelligence (AI) will do the job of the market analyst to scan software and the internet helping businesses discover what the next customer need is in their niche. As a result, content marketers will be prepared with real data to craft content that piques the interest of potential clients searching the internet for products. It is essential for you to provide training to employees on SEO content to write the keywords that rank high on Google to help it turn into closed opportunities.
360 Degree Video Footage
The days of a Realtor showing a 360 video of a new house on the market is forecasted to inspire organizations to use it as a marketing platform to attract top talent by showcasing company events to help people understand a company culture.
Imagine a short video of a product being developed at your manufacturing facility. An inside scoop to show your customers products are made of the most excellent material and most importantly, with care by employees on-site. Some brands might be hesitant about this strategy, but transparency is the key to winning the confidence of consumers.
Employees as Brand Influencers
Who are the cool people on the team? The go-getters with a bright personality to show customers and job applicants your organization is genuine. Digital marketing starts from within the organization. Word of mouth is powerful and encouraging employees to post a product launch at your retail store, a non-for-profit live donation event or employee's given a free product that has not been released to the public is an efficient way for them to post the experience on social media.
It is important for brands to construct their marketing tactics strategically. This is more important if you are a small brand. With limited resources, you'd have to make every penny count. The tips given above may include some investment that could put you off, but don't ignore them; they could just be the game changer for your brand.
Disclaimer:
This article was written by one of our guest writers. The author's views are entirely his or her own and may not be indicative of the views of Market Motive.
Author Bio
Makeda Waterman is a professional writer with clips from CNBC Make It., Huffington Post, Glassdoor.com, Elite Daily, Fast Company, among others. She is passionate about helping people excel in business or their career.