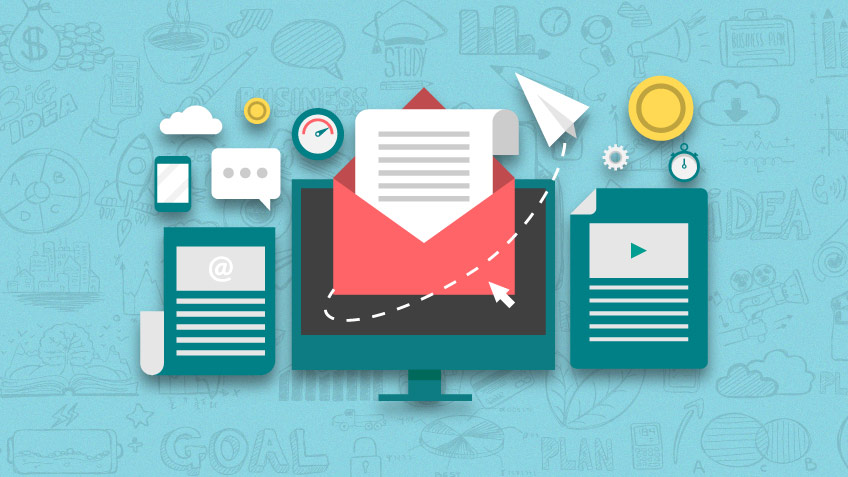 80% of all retail professionals signify that email marketing is one of the greatest tools in customer retention. A 2016 DMA survey indicates that email marketing has a median ROI of 122% when compared to other marketing formats. While these statistics are promising, most people are unaware of what email marketing is and what it entails.
Email marketing is a risky marketing format. It is risky, not because it's a gamble, but because it is easy to overdo it. Do it right and you could reap the benefits of high returns; do it wrong and you could just get blacklisted. Of course, the tricks of the trade can be learned easily through a good email marketing course. With this course, marketing professionals could learn to reach their customers' inboxes without seeming spammy.
What is email marketing?
Fundamentally, email marketing is the use of electronic mail (email) to promote and sell products and services. Through email marketing, the goal is to build a relationship with a potential customer by paving the path with useful information to aide a transactional process.
More specifically, email marketing is one arm of digital marketing that involves directly marketing to customers or potential customers. When done properly, it can yield amazing results that can lead to long-lasting relationships. When done poorly, it can result in annoyances in people's email inboxes more popularly known as 'spamming'
Email marketing usually involves the following actions:
Sending an email to a customer or potential customer to convince or convert them to take immediate action and purchase or buy into something on offer.

Sending an email to a customer or potential customer to enhance a relationship or encourage customer loyalty and repeat business.

Sending additional

email advertising

by other companies to current customers
What are the benefits of email marketing?
Now that you know what email marketing is, you are probably wondering, 'aren't there more sophisticated methods to market today?' Answer. Probably. But… the numbers don't lie.
According to HubSpot, 86% of professionals prefer to use email for business communications and 75% of companies agree that email offers 'excellent' to 'good' ROI.
Also, WBR Digital, a demand generation and content services provider, carried out a survey of retail professionals in the US and found that 80% of them said that email drives their customer acquisition and retention.
Basically, Email marketing is very successful and is still very widely used as a marketing channel even today. Some of the reasons for this are as follows:
Inexpensive

. Compared to other marketing channels, email is very cheap especially when marketing to large numbers of targeted audiences.

Great ROI

. Low cost coupled with targeted campaigns often means that email marketing has great ROI over other direct marketing strategies.

Great Analytics.

Email responses can easily be tracked and measured which means that email marketing campaigns can be adjusted and modified for better results.
What are some of the benefits that you can expect from a well-organized email marketing strategy?
If you use the right approach to email marketing, you can benefit in several diverse ways. However, according to marketer ratings of the top benefits of email marketing 2017, the top benefits of email marketing according to priority are as follows:
Email marketing done right is direct targeted marketing, this means that it allows you to reach the right person at the right time with the right offer. As such, it often translates into a higher ROI since email marketing is inexpensive while at the same time allows you to talk to individuals on a more personal level.
There are several ways you can target interested individuals including through email list sign-ups, or through requesting or encouraging email subscribers to forward emails or share emails on social media.
The right email campaign directed at the right people means that you have an audience that is interested in receiving information and offers. This will, therefore, mean that it is much easier to boost your sales through email marketing.
The secret sauce to such a targeted email campaign is email list segmentation, which allows you to nurture your email list subscribers with the right message at the right time and therefore move them through your sales/marketing funnel towards becoming a customer.
To convert visitors into eventual customers, you need to nurture individuals to trust you and help them to realize that what you have to offer is in their best interest. The cornerstone of this nurturing process is providing useful information or content that will allow your audiences to make informed decisions. As such, choosing the right content at the right time is vital. To choose the right content at the right time, email list segmentation can again be very important in this process.
Not only is email marketing inexpensive when compared to other digital marketing strategies but you can even find high-quality tools for free. This can allow you time and access to explore the best tools for your specific needs and upgrade as and when you need to.
Your email list is sometimes going to capture bad leads. The great thing about email marketing is that it is in itself a lead qualifying system and can be used as a tool in your sales qualification system as well. Through email, you can weed out bad leads by demonstrating a prospect's interest based on the following facts:
That a prospect signed up to your list

That a prospect opened your email. And,

That a prospect clicked on a link in your email
Through integrating different forms of marketing and specifically content marketing, social media marketing, and email marketing, you can incredibly boost response to your marketing campaigns. Email marketing can boost or drive social engagement which can lead to more awareness and therefore higher effectiveness as a marketing medium.
Some ways to integrate email marketing with other media to boost response include; using shareable content, announcing contests and winners, making exclusive offers that users can share and creating feedback loops.
Through several of the techniques mentioned in the benefits above including; targeted email campaigns, better segmentation, integrated email marketing and so on, you have the ingredients to convince a prospective buyer, in the shortest time possible and by providing convincing information that you are the right match for them.
How to get started with Email marketing
If you want to experience and appreciate the benefits of email marketing, it cannot be understated that you must use the right approach or else you risk annoying your audience instead of engaging them. So, with that said, how do you choose the right approach?
Before highlighting the best way to get started with email marketing, it is important to consider some 'critical' success factors. Dave Chaffey, of Smartinsights.com fame, appropriately highlights the success factors of email marketing in an easy to remember mnemonic, 'CRITICAL'.
Conversation:

Create emails that prompt dialogue and encourage social sharing.

Relevance:

The email should meet the needs of the recipient from the perspective of both the offer and creative/copy used. Separate your email from SPAM by making it tailored and personalized to the recipient's needs.

Incentive:

The email recipient should have a compelling reason to open an email and thereafter click on a link or call to action. In short, consider the 'What's in it for me' (WIFM) factor for the recipient.

Timing:

Time, day, week, month and even year when an email is received can make a dramatic difference.

Integration:

Other aspects of your marketing mix should reflect in your email campaigns as well to reinforce communications.

Copy:

When considering the copywriting for your email, consider using language, structure, style, Call-To-Action, hyperlinks and so on that will capture the attention of the recipient right away.

Attributes:

Consider email attributes

including; From address, subject line, e-mail headers, and email format (HTML or text) etc.

Landing page:

Design a landing page that is easy to complete after the email recipient clicks on a link in the email.
Considering the above success factors for email marketing will allow you to optimize to your specific needs the following step-by-step approach to getting started with email marketing:
Choose the right tools to use
There are several tools that you can use to aide your email campaign ranging from tools for harvesting emails to automating the process of sending targeted emails. There are also tools that cater to distinct aspects of the email marketing process including; monitoring, analysis, and management of email marketing campaigns.  
Start harvesting email addresses
Of course, the emails that you harvest should be relevant to your campaign so that you can only target those that are most likely to take up your offer. Furthermore, the people that you target should preferably already have a predisposition towards your offer to become worthy leads for your email marketing campaign, your specific SEO niche and for your sales/marketing funnel.
Choose an appropriate template
There are several highly optimized email templates that have been proved to be extremely effective in their purpose of attracting attention and appropriate action. Instead of reinventing the wheel, start off by choosing an appropriate template that closely meets your needs and then optimizes from that point after gathering data.
Plan your email content/copy and schedule
The last thing that you want to do is to send random emails simply based on your gut feeling. Instead, plan and schedule topics that you wish to discuss and inform the email recipient about, with key milestones in mind. Consider the specific section of the sales/marketing funnel that your email recipient is in as well as the time or season you are sending the email, holiday season, product promotion, shopping season etc.
Send emails and monitor/measure results
Send emails according to your plan and schedule. Thereafter, track and monitor your emails to appropriately adjust future emails/copy/content according to the recipient's needs and according to the effect that you require. The top email metrics to monitor the progress of your campaigns include: Click Through Rate (CTR), Conversion rate, Open rate, and ROI.
Email marketing tools
Email marketing tools make it a lot easier for you to manage and succeed with your email campaign. Fundamentally, you want to look for an email service or tool that will ensure that your emails do not end up as spam in your recipient's folder.
When looking for such a service, you want to optimize the features you need and the features you get vis-a-vis the cost of the service. Certainly, in some cases, the features you get for some services can be free of charge.
Some of the more popular email marketing tools that you will find today include the following:
This is a user-friendly email marketing service that is mainly used to start with an email template, customize it, manage contacts, automatically send the email at the right time and analyze email responses. They are one of the largest and fastest growing email marketing services.
Constant Contact has a 60-day free trial and thereafter costs as low as $20.
Some of the features that Drip boasts include; Automating up to 18 triggers and 16 actions, a best in class visual workflow builder, intelligent Facebook ads, tagging your email list based on actions, identifying best leads, sending targeted emails, tracking performance, integration with other apps.
You can try Drip for free for the first 100 subscribers and thereafter plans start from $41 per month.
This email marketing tool is tailored for authors, professional bloggers, and marketers. It is easy to use and yet very powerful. Some of the features that Convertkit boasts include: integration (with landing pages, membership site providers etc.), growing your audience through simple but powerful automation and tracking of data, increasing conversions through well-timed and targeted content, a better understanding of your subscribers through segmentation and sending the right content to the right person based on location, interest, and other data.
Pricing starts at $29 per month with a 30-day refund policy.
There are several other useful email marketing tools that are widely discussed and used on the internet including:
MailChimp

GetResponse

ActiveCampaign

Litmus

Mad Mimi

Target Hero

FlashIssue

Mailjet

LeadPages etc.
Email marketing campaign examples
There is plenty of inspiration online for businesses that have successfully used email marketing for their marketing campaigns. You can find 15 of the best Email Marketing campaign examples in HubSpot's 13-minute read.
Here are three more examples that highlight how to effectively use email marketing.
Bonobos email campaign provoking a 'YES'
Essentially, this email marketing campaign asks questions that most people will answer Yes to. The idea is that after answering Yes several times, you will most likely accept the call-to-action (CTA).
Overstock email campaign motivating recipient to add more information
The email campaign sought to motivate email recipients to provide more information, specifically their birth date, by offering them a gift or special coupon on their birthday.
Topshop email campaign to remind customer to complete their unfinished order
This email campaign reminded customers that had abandoned their shopping carts to go back and complete the purchase.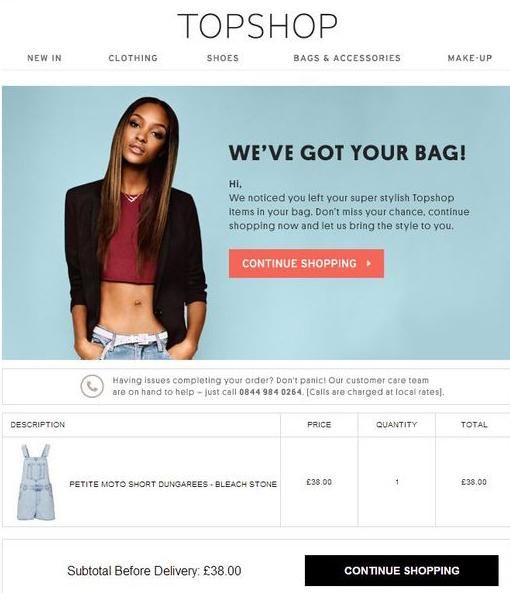 Conclusion: The ball is in your court…
Through direct email marketing, you can not only closely target your customers/potential customers and lead them rapidly through your sales/marketing funnel, but you can also find ways to have your target customers share your email campaigns and become your ambassadors as well. Now that you know where to start with your email marketing, the ball is in your court.