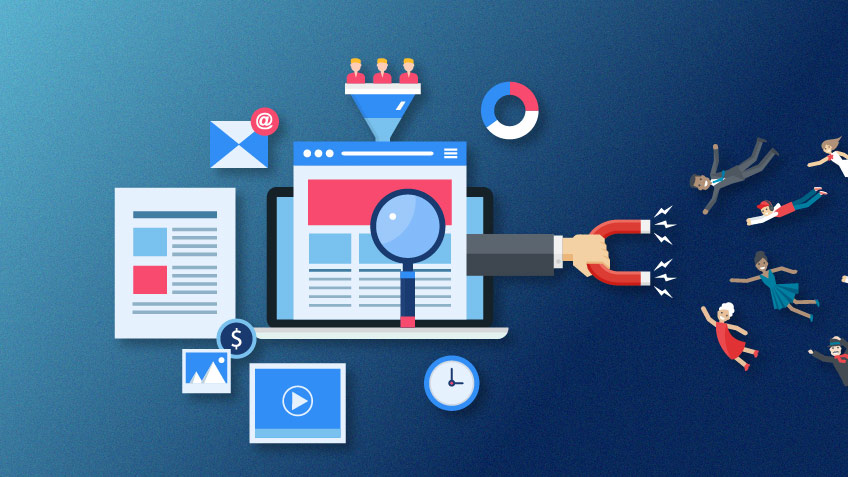 Inbound is one of the first things you will come across when you do your research into digital marketing. Despite its apparent popularity, very little is known about inbound marketing. While this is a topic usually covered in a good DMCA course, not all digital marketing specialists can explain how inbound marketing can help you.
So, what exactly is inbound marketing?
Is it just a marketing gimmick? Will it help your brand or business?
These are some of the questions we aim to answer in this article.
What is Inbound marketing?
Inbound marketing is a practice and methodology that focuses on nurturing strangers into visitors, visitors into leads, leads into customers and finally customers into promoters of products and services. Inbound marketing does so through content marketing, social media marketing, search engine optimization, and branding.   
Essentially, inbound marketing seeks to deliver the right content in the right context, in order to aid a prospects decision-making process. The emphasis is on sending a message (CONTENT) that is targeted to an individual in a specific stage of the marketing/sales funnel and sending the message everywhere that the target or prospects can be found.
How do you link your marketing funnel to your content strategy?
The marketing funnel
If you have had any experience with marketing or sales for that matter, then you will be aware that quite rarely will a visitor actually come to your website and then immediately purchase a product or sign up for a service.
Ordinarily, a visitor will need some convincing before they are ready to take the necessary action to 'buy-in' to what you have on offer. In marketing jargon, this is what 'converting' visitors is all about. A potential customer starts their journey with you as a stranger and slowly but surely finds out more about you by engaging with your content as they decide whether they are going to 'buy-in' to what you have on offer.
The main stages of the funnel are:
Awareness: The potential buyer seeks information or a solution

Consideration: the potential buyer evaluates what you have to offer

Action: When they decide to 'buy-in' or not
In reality, the marketing funnel is not always standard or clear-cut. Basically, depending on certain factors including; your target audience, conversion goals, industry/business etc., you will have to adapt your marketing funnel accordingly. For example, 'buy-in' on one hand could mean signing up for a subscription while on the other hand, it could mean purchasing a physical item. Your funnel may be different in either case.
With that said, essentially, your job as a marketer is to align a 'buyer's' journey through the marketing funnel by providing the right content, to the right person and at the right time, when they are looking for it. The content should definitely be relevant and captivating and should be served in the most user-friendly manner or else you risk losing your visitors attention and motivation to take your desired action.
Content strategy
According to the Content Marketing Institute, 82% of B2B marketers use content marketing as part of their overall inbound marketing strategy. There is, therefore, no doubt that creating engaging content is the fuel behind inbound marketing techniques whether it is SEO, Email marketing, Social Media Marketing(SMM), Paid Search marketing or Conversion Rate Optimization(CRO).
The benefit of a content strategy is that unlike SEO, SMM, CRO, email marketing etc., the focus in on unifying all digital marketing communications to support gaining customers, growing the customer base, while retaining customers as well. With SEO, CRO email marketing etc., the focus is generally to improve each channel in isolation.
With this in mind, what does a content marketing strategy entail? Well, it basically boils down to taking 7 key steps:
Running a content marketing capability audit and setting goals.

Defining personas and audiences

Creating your content marketing strategy.

Editorial management.

Create compelling content

Distributing content

Evaluating and measuring ROI.
Just in case you are wondering, a content strategy and content marketing are used interchangeably when in actual fact they are not exactly the same thing.
With a content strategy, the focus is on the vision or the 'how' and 'why' content is created, managed, updated or archived. Content Strategy, therefore, focuses on governance and internal guidelines. Content Marketing, on the other hand, focuses on tactics and execution or actions of creating, curating, promoting, iterating and editing content meant for marketing purposes. They are different but they most certainly complement each other.
With that said, for argument's sake, when we talk about the content strategy you can assume that we are discussing content marketing strategies, or where content strategies and content marketing overlaps.
Linking the marketing funnel to an appropriate content strategy
The top of the funnel is the where you begin to build a connection between the topic and your brand. Your audience has a challenge or issue they are trying to resolve and they are looking for answers. You want to provide the answers by gently nudging them towards your solutions. The answers can be in the form of opinions, research data, education, insights and other resources.
The types of content that you would use at the awareness or top of the marketing funnel would include:
Using keywords and key phrases in blogs to draw people to your content hub.

Using longer content including e-books, white papers, and reports

Using social content to share the above content
At this stage, the content should be visually engaging and shareworthy. This can be done by integrating a psychological appeal to the content. Also, remember that content should be specific to your different audiences. If your audience finds the content useful, then they will continue their journey to the middle of the funnel or the consideration stage.
Once you capture the person's attention from the Awareness stage, this stage is where you can actually educate and engage them. At this stage, you are already building followers and subscribers. Essentially, your audience is more aware of the problem or challenge that they have, they are aware that there are some solutions and they are trying to look for the best solution.
Content that is often suitable for the middle of the marketing funnel includes:
Create detailed content to demonstrate your proficiency and capabilities but leave your audience wanting more. Webinars, live interactions, and Guides are great at this stage.

Partner and collaborate with influencers or people that your audience trusts.

Respond to comments or queries from your audience and make sure that you have a strong brand voice.
Your job here is to engage your audience, nurture them and build a relationship based on trust. As such, if your solution is not the right one for them, then you should let them know this. If it is the right one for them, then they can confidently move to the next phase of the funnel.
At this stage, your audience will often make a purchase decision so that they can become your customer or not. You should still provide the right content at this stage in order to cement trust and therefore greatly impact the conversion rate.
The type of content at this stage should include:
Compelling content to seal the deal including; demos, downloads, trial offers, etc.

Additionally, content to prove your brand values and the value of your products and/or services will also be very appropriate at this stage, for example, testimonials, product literature

At this stage, your website should be guiding visitors to pages that lead them further down the sales funnel. For example, call-to-action content,
Step-by-step guide to starting an Inbound Marketing strategy
In as much as content marketing is the fuel behind inbound marketing, there is definitely a lot more that needs to be addressed for success in inbound marketing. Having a step-by-step plan that integrates all the important components of an inbound marketing strategy is critical.
As such, below are the most important steps that you should have in your inbound marketing strategy:
Understand and absorb inbound marketing
Since your inbound marketing strategy will be specific to your needs you need to have a thorough understanding of what inbound marketing is all about. This will allow you to take a more intuitive approach that is tailored to your needs.
Resources that could be used here include;
It is unlikely that you will do all that is required by your inbound strategy by yourself. You will, therefore, need a team to help you plan and execute. Tea members may include; content copywriter, marketing strategist, web developer, designer.
Audit your current marketing strategy
Assessing your current marketing strategy will help you to understand and acknowledge current and future; budgets, tasks and activities, resources and assets.
Outline your marketing goals
Your inbound marketing strategy should at this stage have goals that are defined by two main criteria:
First, they should be SMART (specific, measurable, attainable, realistic and timely).

Secondly, the goals should be aligned with your overall business objectives.
Target audience and buyer journeys
At this stage, you need to define your target audience by developing a buyer persona of your ideal customer. It should describe important aspects like; demographics, role, desired outcomes, problem, pain or challenges, the rest of their story or background.
You then need to document the buyer's journey describing their process from when they found you to when they decided to buy or not buy and why they chose to do so.
Develop your marketing plan
Essentially, this will involve bringing together your tools and resources required to have a complete inbound marketing strategy. Some of the tools and/or resources will include;
Putting your

content plan

in place

Defining conversion paths; e.g. specifically describing how to generate leads

Technology required including; marketing automation, CRM, CMS
Build a website around your marketing plan
AT this stage you should build a Launchpad website that reflects your inbound marketing strategy and lead generation efforts. The website should also reflect your goals.
Some important website features include; intuitive navigation, appeal to persona, responsive web design, optimized lead generation (landing pages, CTAs, forms etc.)
Put your content strategy into action
Essentially, at this stage, you need to publish your content. The content that you publish may include; blogs, social media content and engaging in conversations, offering premium content (calculators, eBooks, videos, and toolkits), webinars and other guest appearances.
Promote and support your content
Once you publish your content you need ensure people are consuming it. You can promote your content or landing pages for your content in the following ways; social media, emails, make use of influencers, paid advertising, distribute your content in relevant forums and online communities.
Monitor, evaluate, report, test and improve!
Track different marketing metrics to gauge your performance. Generate insightful reports and seek to improve based on your findings.
Tools that'll help with your inbound marketing strategy
If you have the right tool to back the right inbound content strategy, the sky's the limit for what you can achieve.
There are many different inbound and content marketing tools available for free and for a price. In order make sense of the many tools, here are some of the more useful tools grouped into six main groups:
Social media and community management
If you have several different social media or community accounts or profiles managing all of them individually can be an overwhelming task. Tools in this category address tasks like; scheduling posts, creating content, repurposing content, engaging followers and interlocutors.
Some tools in this category include:
HootSuite: A paid tool for

content marketing tool used to launch marketing campaigns and manage social media sites like Facebook, Twitter, LinkedIn, and WordPress. The tool costs $19 and upwards per month for different packages.

Inbound.org: This content tool helps marketers create their personalized content feed according to certain predefined tags like; keywords, location, category and so on.
Other tools in this category include Quora, BuzzSumo, and Trapit among several others.
Content collaboration and creation
Creating captivating content on a regular basis can be a full-time job. This is why it is important to have content collaboration and creation tools to help you to create and manage the content easier.
Some tools in this category include:
SnapApp: This is a content creation and marketing tool that allows that allows users to build dynamic and interactive experiences in order to improve the quantity and quality of the content they produce. The tool is offered at different monthly packages starting from $1,650
CoSchedule: With this content management tool, you plan and queue social posts and other content months ahead so that is intelligently sent out at the best time for each network. The tool is offered at different cost levels from $9 a month to thousands of dollars a month.
Other tools in this category include: Copify, ClearVoice and Hemingway Editor
If you are struggling to get discovered or if you are a new business trying to gain traffic as you continue to build your inbound strategy, then paid promotion and paid promotion tools can be of great help. The tools mostly help to better target audiences and to quickly grow an audience base. Some tools insert content into relevant social media conversations while others promote sponsored content.
Some tools here include:
Taboola: This promotion tool helps build brand awareness, build audiences and boost sales. Pricing for this tool is upon request.
Outbrain: An advertising tool that helps publishers find interesting content. This content discovery tool also helps publisher's carter to their mobile audience and monetizes their mobile assets. Pricing for this tool is upon request assessment.
This is a tool that basically automates repetitive tasks. Repetitive tasks can include; website tasks (e.g. publishing), emailing, and social media activities among others.
Some tools in this category include:
MailChimp: An email marketing tool that easily integrates a lot of other popular services and apps including SurveyMonkey, Eventbrite, SalesForce, Twitter, Google Shopify, Facebook etc. The cost of this tool starts with a free package and increases to $10 per month and as much as $200 for comprehensive packages
HubSpot: This is an all in one inbound marketing tool that integrates a content management system, email marketing, blogging, marketing automation, publishing and analytics, social analytics and so on. It's offered for free but offers starter packages for as low as €46 per month and as high as €2,200 per month.
These tools analyze and compare the performance of web pages and measure how audiences respond or behave towards content. Some other tools in this category provide solutions for Call-To-Action (CTA).
Some tools in this category include:
BrightInfo: A content personalization tool that uses algorithms to learn individual behavior, measures it against crowd behavior and then presents the individual with relevant content in real time. Pricing for this tool is on request.
Optimizely: This visual editing tool allows the user to edit content by clicking instead of coding. It also allows the user to generate variations of a web page and then tracks how customers respond to those variations.

Pricing for this tool is on request.

Sniply: This content tool adds a call-to-action (CTA) on any page then monitors how audiences engage with the CTA. Cost of this tool varies from $29 to $299 per month
One of the most important categories of tools is the SEO analytics tools. SEO analytics is important for defining a good content strategy since it manages the demand while the actual content fulfills the demand. Tools here include tools that define keywords for blog posts.
Some tools in this category include:
Yoast SEO: This SEO tool is considered to be the most popular SEO tool for the large WordPress community. It is a very useful tool for internal linking among other useful features.

The tool costs $79 per website it is used in.

Google Keyword Planner: This PPC tool combines what used to be two different tools offered by Google; AdWords Traffic Estimator and Google Keyword Tool.

The tool helps users find relevant keywords for pay per click campaigns as well as find keyword trends, retrieve historical data, bid for keywords and so on.
Other tools in this category include Ahrefs, Ubersuggest, SEMrush, Moz, Majestic, SEranking.
Conclusion
There you have it, a simplified consolidation of inbound marketing. This form of marketing is extremely successful owing to just one basic principle – Give customers what they want. The focal point of inbound marketing is to focus your strategy and content on the needs of the customers and not the other way around. Keeping this mind will take your brand far. Reach out to us in the comment section in case we forgot something or just to say hi.