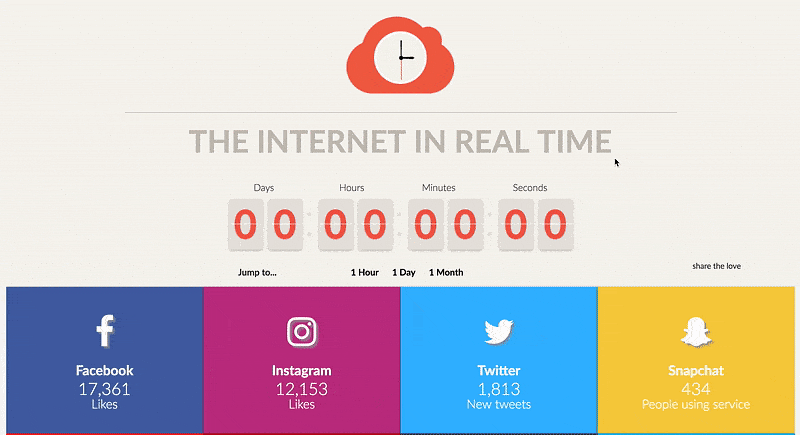 powered by Betfy.co.uk
Did you know the world wide web internet was 10,552 days old at the start of 2018, and that internet technology was made 7,131 days before the launch of the world wide web? Now, for every second you spend on the internet, more than 22,500 gigabytes of data are being transferred.
Now let's put that into perspective. Betfy estimates that every hour on the internet, there are over 12 million new Facebook posts, about 3 million new uploads on Instagram, over 26 million new tweets, 186 million Google searches, 1 billion WhatsApp messages, and over 450 million YouTube video views. And guess what? That's just to name a few. The numbers are crazy! You can learn more about how to make use of this traffic by enrolling in an online marketing course.
The infographic below provides the internet live stats of the interactions that go on over numerous channels on the internet on a second-by-second basis. All of this real-time internet live stats and data transfer details eventually culminate into staggering hourly, daily and monthly figures.
What this means for you is that you can strategically position and market your business using this ridiculous tool called the internet. How can you achieve that?
Owning a personal or business account on social media is free, and this puts you and your business in touch with customers who spend time on social media without added costs. It is possible to also engage in low-cost advertisement on social media channels to further expand your reach to potential customers.
People more often than not prefer to watch than to read, so videos are fast becoming a mainstay in publicity and marketing. In fact, after Google, YouTube is the second most popular search engine. So, showcase your business in videos and host them on online video sites such as YouTube, Vimeo etc, and social media channels that support videos.
Content Marketing and Search Engine Optimization (SEO)
Deliver high-quality content that contains relevant keyword and phrases that customers use in search engines. Why? The more people see those keywords, the more they visit your website, and the higher their tendency of sharing your content to even more people. Tools like Google AdWords and Microsoft Bing Ads are helpful for finding keywords and phrases used by potential customers.
It is vital to remember that these modes of marketing focus on bringing customers to your product instead of you looking for them. While this is great for companies, it is vital that you provide customers with the information they can actually use, instead of bombarding them with salesy pitches.