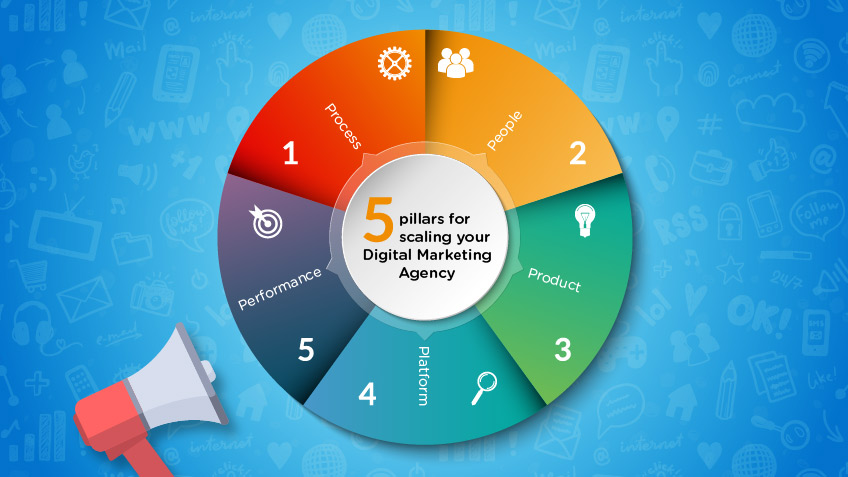 Let's think back to how agencies were doing marketing decades ago. It was all about direct mails, radio, print, and TV ads. To go head-to-head with the competition meant pulling out all the stops in the creative department.
Today's marketing requires more than just a play on creativity, though. Professionals who want to offer their services to agencies and websites need to have more than just Don Draper's smarts. Today, to carve a niche for themselves, marketers need to be trained in digital marketing. They need to understand algorithms, pixels and more. Technology has caused a profound digital transformation for agencies – from the platforms available to the structure of the digital marketing business itself.
Agencies that know how to utilize the right tools, platform and strategy in the most cost-effective ways are often the ones that emerge victoriously. On the other hand, agencies that have been too comfortable with the old approach to marketing neglect one aspect of their business: scalability.Because how else can you boost your business and keep up with the competition if your process is prehistoric?
Change and growth go hand in hand. To scale your agency, you need to learn how to mold a strategy that forgoes traditional models, adapts to the evolving digital landscape, and provides long-term value. You need professionals who can seamlessly blend the digital platform into your sales strategy.
How do you achieve this? Scaling your Digital Marketing Agency requires you to look at five pillars: process, people, platform, product, and performance. In this post, you'll learn how to develop these pillars into strategies that make your digital agency scalable.
Process: Fix What Needs to Be Fixed
First things first, you need to have a good look at your agency's functions. What are your internal processes? Do you have an in-house team doing all the heavy lifting? Are you targeting the right audience? Do you have a killer agency website? Is your current strategy driving results for your clients?
Before you invest money, time, and effort, you need to determine what requires improving. Cover all the basics from the get-go, so it will be easier to align your marketing efforts and internal processes with your agency's goals. More importantly, this eliminates any wasteful use of resources associated with implementing strategies that fail to yield results and impede your agency's capabilities.
If you scale your agency without tying up the loose ends, you'll only hit a wall.
People: Gauge Your Digital Capabilities
Your go-to marketing initiatives should match your digital capabilities. Ask yourself, "Can you handle the work to meet your agency's and your client's goals?"
One of your options is to outsource work if you don't have the capacity to handle it. If your bread and butter is SEO but wants to dive into web design as a new offer to clients, you can outsource web design services until you have the team and technology to do the work yourself.
Enroll in our DMCA course today and diversify your Digital Marketing skills!
While outsourcing can fill in the gaps, it's still important to develop your team's core competency and expand your digital capabilities. Digital marketing is constantly changing, and these changes come with a learning curve that your team can embrace. Don't shy away from opportunities that help you expand your digital marketing knowledge. Attend digital marketing conferences, sign up for webinars (you'll find a lot of free webinars out there), and subscribe to industry newsletters to stay updated about the latest trends.
Product: Extend Your Agency Offerings
Most agencies identify themselves as either a full-service or a specialized one. But, sticking to either one type means limiting your offerings to clients. Don't put yourself in a box. If you want to scale, you have to be open in enhancing your agency's offerings.
The most effective way to do this is by partnering with a white label service provider. Think of them as an extension of your team. Working with them gives you access to their expertise, technology, and methodologies. In turn, you can manage other projects that you're unable to handle, but still, package it with your agency's brand and pricing.
The point here is to not reinvent the wheel but to maximize the available resources, so you can provide clients with a more holistic solution.
Platform: Streamline Your System
All the back and forth between your agency and clients take up time, which could be better spent on growing your business. You need to automate.
Automation is an important aspect of scalability, as it allows you to allocate resources more efficiently, which saves you plenty of headaches down the road.
White label service providers offer custom dashboards to help agencies automate their systems – reporting, client onboarding process, and even creating proposals and audits. Some providers have different dashboards for specific digital marketing services. The best thing about this? You can brand the platform as your own and show them as proof that your agency is both an expert at what you do and you're technologically advanced from the others.
Performance: Be the Agency They Trust
You don't pull results out of thin air. Part of your work as an agency is to show that your marketing initiatives are measurable and can deliver results. This is a proof of trust and reliability, which are major factors in getting more leads and preventing client churn.
There are different ways to achieve this:
Reviews and testimonials – Leverage reviews and add testimonials from clients to your website, social profiles, and other online properties.

Case studies – Showing case studies provides your clients with validation that your strategy works.

Audit reports – Audit websites of potential clients and integrate your findings in an easy-to-understand report.
The Bottomline
Your agency should have the flexibility to accommodate changes in the digital landscape. Focus your efforts on two things: addressing the needs of your clients and finding the best leverage for your business to adapt. It should be a win-win situation. Otherwise, you'll only be selling yourself short instead of providing a better service to clients and being more profitable.
AUTHOR'S BIO
Itamar Gero is the founder and CEO of SEOReseller.com, a White Label SEO digital marketing solutions provider that empowers agencies—and their local business clientele—all over the world. When he isn't working, he's traveling the world, meditating, or dreaming (in code).