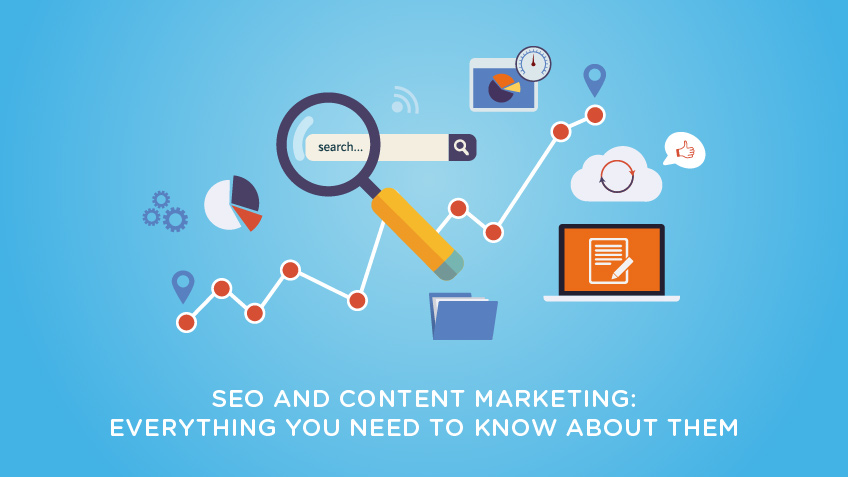 Search Engine Optimization and Content Marketing are two aspects of the larger field of digital marketing. Digital marketing experts take opposing positions about where these topics stand. While some experts believe that Content Marketing has replaced SEO, others believe that Content Marketing and SEO are almost the same things. One thing is true, every good SEO specialist worth their dime knows the importance of good content in drawing attention to a website.
So, what is the truth?
Let's start from the beginning.
What is SEO?
SEO or Search Engine Optimization is a communication process between a person and search engine bots that crawl and index a website. When a website is optimized for search engines, bots understand what the content is about.
Three parties are included in the process of SEO –
1. A search engine user – This refers to a person who looks to the internet for answers. This person uses the search engine to access information that could potentially help solve his or her problems. Chances are, you are reading this article because you used a search engine to answer your questions about SEO or content marketing.
2. The Search Engine – This is a program that connects people with questions to people with the right answers. The goal of a search engine is to provide users with the most relevant answers to their questions.
3. A website owner/SEO /Content Creator – Since the goal of the Search engine is to connect users to the most relevant answers, it needs to understand what your content is about to lead users your way. The best way to do this is to use words relevant to your content's topic while writing.
Components of SEO
Search engine optimization includes multiple components. They can be broken down into 2 main categories. These categories are –
1. On-site Optimization – Also known as On-Page Optimization. This is a major aspect of SEO that deserves its own post. It is also a passive marketing strategy where you follow the rules set by Google and optimize your web pages meeting all the webmaster's guidelines to rank well.
i. Site Navigation – This refers to a roadmap to your website. It is important to structure your website properly, so it is easy to follow and categorize. Sitemaps are important because Google ranks web pages and not Websites. So the better the relation between different web pages on your website, better the chance of getting ranked well in Google.
ii. Relevant and Sufficient Content – Without relevant content, none of the SEO tactics you employ will work. Keep your content unique and relevant and people will come flocking to it. Add both target and related keywords to your articles. This way search engine bots know what to make of your article.
2. Off-site Optimization – Off-site Optimization refers to actions taken outside your website to improve your website's search results. This type of optimization is an active marketing strategy where you take steps to increase the number of people who could potentially read your content.
This includes:
Backlinks acquisition, where an external website provides a link to your website. This helps your website establish its authority in your field.
Social media marketing, where you distribute your content through social media platforms like Facebook and Twitter and expose your article to a large number of readers.
What is Content Marketing?
Content marketing refers to the creation and the dispensing of materials that are meant to provide valuable information to your audience.

Enroll in our advanced content marketing course today and develop engaging content for your target audience
Components of Content Marketing
While it is easy to do so, it is important to remember that content creation and content marketing are not the same.
There are 2 components of content marketing:
1. Content – Creating material that is of use to your audience. This could mean anything from an ebook to a listicle. The point of creating content is that your audience learns something new about your field.
2. Marketing – Ok, so now you've written a great article. But how do you tell your readers you've written articles. No one is going to read it if they don't know it exists. This is where marketing comes in. Marketing techniques are used to distribute your content, i.e, getting your content to your audience. You could inform your patrons through email, post it on Facebook or Tweet it out to people.
Relationship between Content Marketing and SEO
At this point, it is important to remember that both SEO and Content Marketing are smaller pieces of a larger Digital Marketing jigsaw puzzle. You cannot get the whole picture if you don't use all the pieces.
So, what is the difference between Content Marketing and SEO?
Well, the truth is, the two components of digital marketing hold a symbiotic relationship. One cannot survive without the other.
Search engine optimization without content is near-impossible, while content without SEO gets buried under a rubble of unindexed pages.
Keywords
Search engines act as middlemen between your audience and you. They direct the right readers to the right content. This is where keywords come in. Keywords help search engines categorize your article correctly and bring people to your site.
Keywords are terms that define what your content is about. For example, if you write an article about SEO tips that increase traffic, then using the keyword "SEO tips" within your article would help Google (a) identify what your article is about and (b) list your article as a response to the query "What SEO tips can I use to increase traffic".
So, if I want to search engine optimize my article, I would have to include the keywords a couple of times in my article, right?
Wrong!
After Google's Panda update in 2011, low-quality content is penalized by Google. This includes articles that use the same keyword excessively as well as shallow, low-quality articles.
There are ways to right this wrong of course – Using LSI and Long-tail keywords help here.
What is LSI?
LSI or Latent Semantic Indexing refers to a Google algorithm that looks for words related to an article's main topic. This is used by Google to derive context, i.e. understand what the article is about. For example, If your article is about the Chicago Cubs, then it helps to use baseball-related terms in the article. This way Google can categorize your article as baseball talk, rather than animal talk (if there is such a thing).
What are Long-tail Keywords?
According to Wordtracker, long-tail keywords are three to four keyword phrases which are very, very specific to whatever is being sold. If your article talks about apple pie, for example, a long-tail keyword that could be included is "easy online apple pie recipe", or "online vegan apple pie recipe".
Using these keywords have multiple benefits for your article –
(a) The competition for long-tail keywords is lesser – More people will try to rank for the word "apple pie" than they will for the term "easy apple pie recipe"
(b) The right audience will turn up at your doorstep – Using long-tail keywords will help filter out uninterested people right at the start, so people who are looking for something else (say, people looking to buy, not make, apple pie) will not be directed toward your site. While this may seem counterintuitive, bringing the wrong people to your site is a sure-as-hell way to increase your site's bounce rates and reduce your site's SEO value.
Does SEO Impact Content Quality?
Yes and No…
Google's Latent Semantic Indexing (LSI) is intended to improve your article's quality. When used correctly, it does. Using related terms does give you a chance to add context to your content and make it more informative and relevant to your readers. But sometimes, it backfires.
Every SEO content marketer has at, one point or another, inadvertently forced a keyword when not required, decreasing the readability of the article and making the sentence seem a little forced.
For example – Including the sentence "Use this SEO checklist free" in my article would probably add SEO value to my article, especially if I am trying to rank for the keyword "SEO checklist free". But from the content perspective, this could be really disastrous for your article. It could reduce your credibility and make your article seem salesy.
What are Backlinks?
Simply put, backlinks are links from one website to another. When website A includes a link to website B, then Website B is said to have a backlink from Website A.
Backlinks and SEO – Impact of Backlinks on SEO
Backlinks are an important aspect of search engine optimization. Backlinks increase the authority of your website and help raise your website's ranking. Not all backlinks are created equal of course. Backlinks from authoritative sites are more beneficial than links from irrelevant sites. This means a backlink from a trustworthy website is more beneficial than many backlinks from irrelevant websites. In fact, getting a backlink from a blacklisted website could actually hurt your site (even if you have nothing to do with this).
Thanks to this, it is important to perform a backlink audit to understand where your site is getting its backlinks from and get it removed.
Content and SEO have a symbiotic relationship
Impact of Content on getting Backlinks
So, how are backlinks related to content?
Content is key to getting quality backlinks. Without interesting and informative content, no website will send natural backlinks your way. The only way to improve the authority of your website, in this case, would be to buy backlinks. This could prove disastrous for your website and could result in getting blacklisted by Google.
Without quality content, the bounce rate of your website will skyrocket. Bounce rates are high when more users leave your website after reading just one page.

Conclusion
SEO and content marketing are the two hands of digital marketing. Believing that one can exist without the other is like saying that your right hand is more important than your left. As a digital marketer, it is important to make use of every tool in your kit. The right combination of SEO and Content Marketing can help take your site places. Don't use them well and you could just end up in the much-dreaded 3rd or 4th page of search engine result pages.