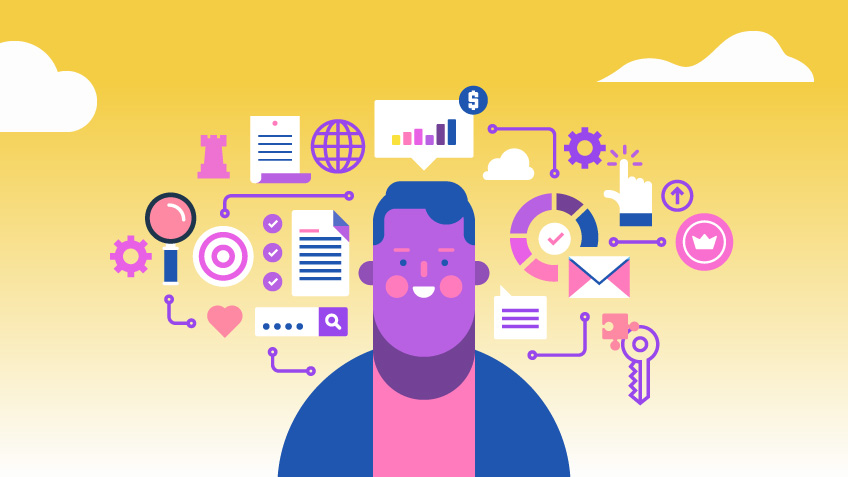 Today, brands are putting more of a focus on online marketing than ever before. This means that the skill sets of digital marketing are widening, and those with the ability to perform at the top of the field are in high demand.
This increase in demand means that those in the digital marketing industry need to be prepared, not only with knowledge and skills but with the ability to spot an incredible new job opportunity and win over the prospective employer by effortlessly handling all the marketing interview questions that come their way.
In cases like this, a digital marketing certification really helps. But, let's face it. Most of us aren't fond of the interview process. It doesn't matter how confident you are, sitting face to face with someone who's challenging your experience with digital marketing questions is a nerve-wracking experience.
What's someone looking to further their career in online marketing to do? Be prepared, of course.
To help you with the process of preparing for your next interview, we've gathered some of the top DM questions and answers that are often leveraged when businesses are trying to find the perfect fit.
Here are the online marketing interview questions that will help everyone, from those just starting out in the field to seasoned professionals, land the job.
Digital Marketing Interview Questions for Beginners
It doesn't matter who you are, taking the first plunge into a new career can be intimidating. No matter how nervous you might be when you show up to your interview, it's important that you convey nothing but confidence to the person sitting on the other side of the desk.
For beginning careers in digital marketing, the interviewer is going to be looking for a basic understanding of DM concepts, along with a willingness to learn, adapt and grow. Here are a few of the questions on digital marketing you should be prepared to answer.
Digital Marketing Interview Question 1: Tell Me What You Know About Digital Marketing.
Answer: This basic question is actually very strategic. Digital marketing is broad enough that if you could talk at length answering this question. However, what the interviewer is looking for is evidence that you understand digital marketing well enough to form an answer that's thorough, but concise.
For example, try something like "Digital marketing is a strategy of building and marketing brands on the internet. A comprehensive strategy should include SEO, search engine marketing, social media, responsive websites, link building and other purposeful measures that bring online exposure to businesses.
Digital Marketing Interview Question 2: Great answer, but you didn't touch on segmentation. What can you tell me about it?
Answer: Digital marketing can be segmented into two distinct categories – inbound marketing and outbound marketing. The purpose of inbound marketing is to bring awareness to a brand by increasing visibility and providing the target market with valuable content through websites and social media.
Outbound digital marketing is a way for a brand to reach out directly to customers through email and paid advertisements.
Digital Marketing Interview 3: What is the importance of SEO in digital marketing?
Answer: SEO is a set of digital tools that increase online visibility by optimizing search engine results. Different aspects of SEO should be leveraged in digital marketing. For example, targeted keywords, local SEO tactics, link building and responsive websites are all part of SEO. It's impossible to maximize a digital presence without a solid knowledge and understanding of SEO.
Digital Marketing Interview 4: What About PPC?
Answer: PPC, or pay per click, is a strategy for creating targeted paid advertisements. Using elements of SEO, like keywords, businesses promote ads that appear in digital mediums, such as search engines and social media. With PPC, business only pays when a user clicks on their ad. It's a cost-effective strategy for generating quality traffic fast.
Digital Marketing Interview 5: Why is digital marketing preferred to offline marketing?
Answer: With advances in technology and increasing accessibility, more people are online than ever before. When anything that they want to read or learn about is at their fingertips, offline marketing starts to become less relevant.
Plus, digital marketing offers numerous unique benefits. For example, SEO helps brands reach a more targeted audience than possible with offline marketing.
Digital Marketing Interview Questions for DM Specialists
DM specialists are in high demand, and now is the time to make a move if you're looking to advance your career. If you've spent most of your time working for one for a company, those first few steps into advancing your career are critical. You want to make sure that you're prepared for the interview that's going to propel your career forward.
You can start by being prepared for digital marketing analyst interview questions, as well as those focused on other specialties in the industry. Here are 5 to get you started.
Digital Marketing Interview Question 1: What is your process for determining the best channels for a brand's digital marketing budget?
Answer: It starts with demographics. The first step is to actively put the brand on the digital channels where their audience can be found. This might mean a diving into social media or be developing a comprehensive email strategy. You use what you know to set a starting point.
From there, we'll test and measure to learn more about the customer persona and adapt as necessary to optimize the brand's digital presence.
Digital Marketing Interview Question 2: What is the difference between on page and off page optimization?
Answer: On-page optimization is the mechanisms through which structure and content is managed on a site to elevate a brand's digital presence. Off-page optimization is a way of boosting search engine ranking by connecting the site with external links that point back to it.
Digital Marketing Interview Question 3: What are the two types of SEO practices?
Answer: SEO can be broadly classified into two categories of practices – white hat SEO and black hat SEO.
White hat SEO are legitimate practices that generate higher rankings in SERPs. To be considered a white hat practice, it must strictly follow Google's guidelines for SEO. Examples of white hat SEO include HTML optimization, quality content and link acquisition.
Blackhat SEO are practices that go against Google's guidelines and are often aimed at finding weaknesses in search engine algorithms to achieve a more favorable ranking. Spam links, keyword stuffing, and hidden links are examples of black hat SEO.
Digital Marketing Interview Question 4: Can you name a few ways to get natural backlinks to a site?
Answer: For a new site, it takes time to get quality links. One common strategy is to offer to write a guest blog post on a highly reputable site in the same niche. For example, a new graphic design business could petition to supply a guest post to several influencers in the industry. Smaller, micro-influencers are a great place to start, if the focus is on choosing partners that are reputable.
Digital Marketing Interview Question 5: What is the value of competitive analysis in digital marketing?
Answer: Competitive analysis is a critical part of developing a digital marketing strategy for businesses. The goal is to identify industry competitors and evaluate their strategy to determine where their strengths and weaknesses are in relation to product or services that the company is providing. Competitive analysis helps to identify a brand's unique place in the market and focus on which attributes will attract their target customer.
Digital Marketing Interview Questions for Managers
As a digital marketing specialist seeking a management opportunity, employers are going to be looking for evidence of everything you've learned in your years of experience, and how you're able to apply that experience to bring something valuable to their company.
For this interview, be prepared to have discussions rather than just give answers. Here are a few of the marketing interview questions and answers to help you prepare.
Digital Marketing Interview Question 1: Let's take a look at your portfolio.
Answer: A potential employer isn't going to consider someone for a digital marketing management level position without proof of the successes that back up their resume. It's important to have a well-constructed portfolio prepared before the interview. Include examples with concrete evidence of how you've helped businesses grow with your digital marketing expertise.
Digital Marketing Interview Question 2: I'm assuming you've looked at our website. What would you do to improve it?
Answer: When interviewing for this position, you're being tested not only on your experience in digital marketing but also your interest in the long-term success of the company. What most interviewers are looking for here is proof that you're not afraid to use what you know.
The best answer isn't one that completely tears their website apart or claims that there's nothing that could be changed. Both extremes can make you look desperate and unprepared. Instead, take a thorough look at their website before the interview and be prepared with 1-3 suggestions for improvement.
Digital Marketing Interview Question 3: Let's say that as your first task, our CEO wants you to evaluate some of our content. What would you say?
Answer: Before evaluating a specific piece of content, I would need to be briefed on specific details. For example, if it's a blog we're looking at, I would need to know about the blog's metrics, current traffic generation and what the goals of the piece are. It's crucial to use data when forming opinions and making decisions.
Digital Marketing Interview Question 4: Data shows us that none of our customers are using social media. Would you still encourage investing in a social media strategy?
Answer: With this question, the interviewer is looking for evidence of a broad perspective of digital marketing and the ability to see past today. Your answer should include several reasons why a social media presence can benefit a company, even if their primary audience isn't there.
For example, just because their target market isn't there yet doesn't mean that they won't be in the future, so building a presence now is crucial. Plus, being on social media helps to build respect and trust and plays a significant role in organic search results.
Digital Marketing Interview Question 5: Digital marketing is a dynamic industry. What do you do to stay current?
Answer: The interviewer is looking for evidence that what you know now isn't the cap of your knowledge in digital marketing. This is time to mention which blogs or podcasts you regularly follow, as well as any books you have recently read or authors that you feel, have a finger on the future of digital marketing. This is also the time to mention continuing education opportunities you have taken advantage of or are planning to in the future.
This is an exciting time of growth and opportunity in digital marketing. Regardless if you're just starting out, or you've been doing this for years, there's a perfect job opportunity out there just waiting for you to come along and grab it. Armed with these digital interview questions and your ability to excel, we know you'll land the digital marketing career of your dreams.
Best of luck in your job seeking adventure!