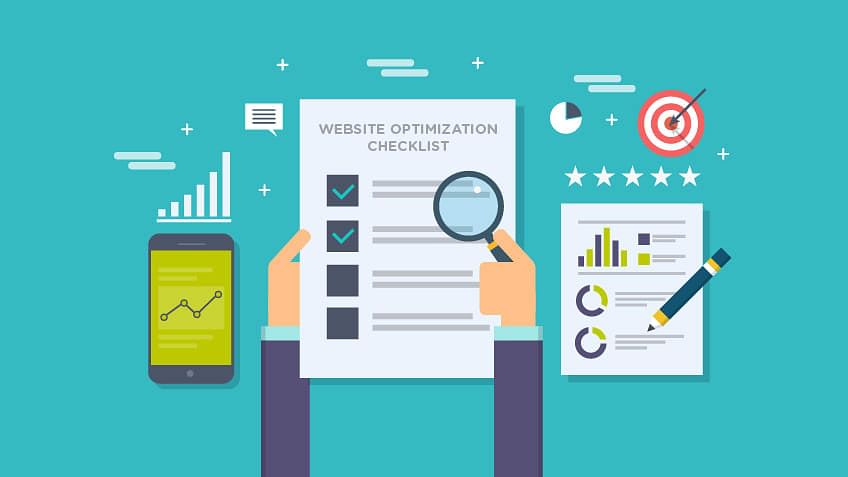 Trying to bring more people to your website?
Confused about how to optimize your website?
In the current digital marketing landscape, throwing together a quick website and Twitter account is hardly more than a token effort at driving traffic and growing your brand. Getting organic traffic to see your content and discover your business requires strategy from start to finish – an optimized website, legitimate content, and an understanding of the current tools and techniques. Mapping out an effective strategy is easy for those who have been trained in SEO. These SEO experts can understand the nuances of search engines and how they work. However, for those just starting out, following the basics that are given in the website optimization checklist will do the trick.

While squeezing out every ounce of possible traffic might be a never-ending pursuit, there are some key principles to design and delivery that can be easily implemented before your website launch, and that provide almost immediate traction. Using the following list, you can see how closely your site lines up with established best practices, and find the low-hanging fruit that can transform your success.
Learn digital marketing best practices by Enrolling in Our DMCA Course today!
Branding and Page Design
Some simple techniques in how you structure and display your site will help not only with search engines but can dramatically lower your bounce rate and convert a higher percentage of your page views.
– Make Your Site Visually Consistent – The color scheme of your website – background, font colors, hyperlink colors and more – should correlate with your company logo. Also, things like fonts and borders should all send the same visual message. Big, bold letters will look out of place against a pastel color scheme; similarly, a delicate cursive font will clash with heavy straight lines in the design.
– Make Your Site Easy and Intuitive – If your site is difficult to navigate, visitors will bounce almost immediately. Headers and subheaders should be consistent, and the layout should be focused with obvious links to the homepage or other content. Additionally, make sure there is ample white space and as little clutter or distraction as possible.
– Generously Incorporate Calls to Action – Whether a link to a sales page, an invitation to follow on Facebook or just more content suggestions – sometimes visitors need to be prodded to take action. Every page should give visitors at least one way to engage further.
Coding and Sitemap Best Practices
Behind the scenes, there are a lot of key changes you can make to your site's architecture to make it more friendly for both users and search engines. Even the more technical-sounding parts of this list can be easily achieved with a little research.
– Use Canonical URLs – This means that you have a consistent format for naming different parts of your site and attaching a predictable URL. This will help your site perform better on search engines.
– Use HTML5 and Schema – Html5 has consistent and well-defined semantics that let things like search engines understand what is going on in your content. Schema markup can be used to further define page elements like videos, links, and shopping carts to make sure that Google knows what you are doing and who to show it to.
– Create a Sitemap XML – A dynamic sitemap will allow you to define and describe the different URLs on your website, giving search engines more ways to find and index your pages.
Content Quality and SEO-Friendliness
Not all content is made equal, and there are several ways to make yours stand out. In addition to making your content optimized for search engines, there are ways to make it more engaging for visitors as well.
– Have High-Quality Content – While this sounds obvious, the bar continues to be raised for what constitutes quality content, as opposed to filler. In addition to having original insight, pay special attention to formatting, grammar, and fact-checking.
– Publish your content consistently – Search engines will typically use publication dates when sorting search results. It pays in more ways than one to regularly produce and publish new content.
Use the right amount of keywords – A "Goldilocks" approach to SEO keywords is important – going overboard with keywords can raise flags that the content is low-quality or looking to take advantage of search engine algorithms. Still, one or two good keywords per page can improve your results dramatically.
Audience Engagement
Making social media a part of your strategy is tricky. Forming content for social media platforms, even more so. It is for this reason that most firms just avoid using social media in their strategy. While there are obvious benefits to connecting with visitors via social media – not only to bring them back but also to find new audiences – many business websites cut corners on integrating social media into their online marketing.
– Put your social media accounts front and center – Whether through a sidebar or with links in your content, you should be actively inviting your audience to join you on different social media platforms. They are unlikely to seek out this information, but likely to engage when given the opportunity.
– Share your own content – There are ways to do this automatically or at least make it a part of your routine to share your own content. A higher amount of shares and likes will boost your search engine results.
– Give visitors a way to subscribe – If you don't already have an e-mail list, then create one. Simple e-mails and updates with your new content are very effective at bringing in traffic, so have an easy and visible way for visitors to join in.
Only the Beginning
There are endless changes and small tweaks you can make that can dramatically transform the success of your website, but the best place to start is by making sure that all of the basic elements of successful site design are in place. This means not only creating a pleasing design and positive user experience but leveraging technology and search engine best practices to drive organic traffic. Starting with this checklist will make sure that all of the elements that will be able to grow your brand are in place. In other words – before trying to reinvent the wheel, make sure you have a car to put it on.