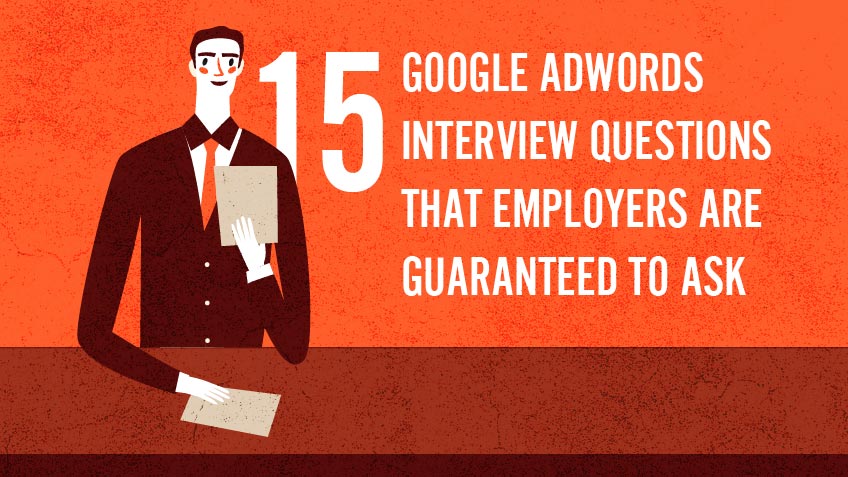 Paid marketing, including Google AdWords, is a crucial part of a successful digital marketing strategy. When businesses are looking to fill PPC positions, they're looking for someone that knows exactly how Google AdWords can be optimized for the growth and success of their company. This means that they're going to be coming at prospective employees with some tough, detailed SEM or Google Adwords interview questions.
In cases like this, it is always a plus to invest in a PPC certification to help you get an in-depth understanding of the topic at hand. Nevertheless, the first step to being the candidate they can't resist is to be prepared and confident as you enter the interview. To help you with this process, we've collected 15 of the top paid ad interview questions and answers for all levels of PPC positions.
Here is your quick interview guide that will have you hearing the words "Welcome to the team".
PPC Interview Questions for Beginners
Starting a career in PPC is exciting. Make sure you brush up on the basics of PPC with a Google Adwords certification course and be prepared to answer entry level AdWords questions and paid search interview questions if you want to land the job. Here are 5 questions that every interviewer will expect those new to the field of PPC to be able to answer easily.
PPC Interview Question 1: Tell us what you know about Google AdWords.
Answer: Google AdWords is a paid advertising platform used to market product and services on Google and its affiliated sites. It works using a bidding system to determine ad placement where the business pays per each click on their ad.
PPC Interview Question 2: Why is Google AdWords important to our business?
Answer: Traffic that comes to your site via paid ads is generally more valuable than traffic that reaches you through organic search. The reason for this is that users are often looking for something specific when clicking on an ad and are more likely to convert. This means that less traffic from a PPC ad is more valuable than higher traffic from organic searches.
PPC Interview Question 3: What is meant by ad rank?
Answer: Ad rank determines the ad's position on Google. It's determined using a metric that combines keyword bid and quality score.
PPC Interview Question 4: You mentioned a quality score. Can you tell us more about that?
Answer: The quality score is a measurement of how relevant your ad is to the user. This number is based on several factors including CTR, keyword relevance and the quality of the landing page that the user is directed to through the ad.
PPC Interview Question 5: What is CTR and how is it calculated?
Answer: The CTR is the click thru rate or the percentage of visitors who visited the ad on your webpage. It's calculated through a simple formula that's the number of clicks divided by the number of impressions times 100. In other words, clicks/ (impressions) (100) =CTR.
PPC Interview Questions for Specialists
When interviewing for a specialist position, the person across the desk from you is going to be looking for evidence of your advanced skill set with detailed Google analytics interview questions. This the place to show that you, and your knowledge of AdWords, will be a valuable asset to their team. Here are 5 interview questions and answers specifically for PPC specialists.
Google Adwords Interview Question 1: Tell us what you know about the Google AdWords Quality Score.
Answer: The quality score is an AdWords metric used to calculate the value of each keyword on a scale of 1 thru 10. The quality score, or QS, is used in calculating the AdRank which is directly involved in determining the ad position.
While the QS is directly proportional to the position, it's inversely proportional to CPC, meaning that keywords with a higher QS will cost less and generate a higher position in ad ranking.
Google Adwords Interview Question 2: Regarding your own personal experience, what is your average and highest QS?
Answer: Be prepared to discuss with the interviewer the examples of your most successful AdWords campaigns. It's best to detail examples where the quality score was at least 7 or higher, and what steps you took to achieve those results. Include details such as the type of analysis, tools, and testing used in the process.
Google Adwords Interview Question 3: How many ads should we have in each group to optimize our ROI?
Answer: The answer to this question will change depending on the specific campaign and how we're implementing it. For example, if we chose to use the rotate evenly setting, it's best to stick to 2-3 ads to keep the campaign manageable.
However, if for a campaign we choose the optimize setting, where AdWords chooses the ads that are most likely to get clicked on, then it's smart to increase the number of ads in the rotation.
Google Adwords Interview Question 4: Testing ads are important, but how do you know when it's time to conclude a test and leverage the results?
Answer: There is no set answer to this question, but each test should start with defined testing metrics including time and measurable data. For example, it doesn't do us any good to set goals for acquiring data and then reach those goals after only 2 days. We need a testing period that extends through different days of the week to show us how an ad performs based on differences in user behaviors.
Generally speaking, a test period of at least a week that gives us 1000-2000 impression and a couple hundred clicks is sufficient for an ad group, even if there isn't a clear winner.
Google Adwords Interview Question 5: No matter how successful our AdWords campaign, it's all in vain without an optimized landing page. Can you tell what, in your opinion, are the hallmarks of a winning PPC landing page?
Answer: A strong PPC landing page seamlessly connects your ad with your brand and proposition. There are specific elements that make this happen. They include features such as a strong headline and supportive tagline, a clear CTA, simplified lead capture form, visual imagery, content that explains the value and trust symbols.
PPC Interview Questions for Managers
When seeking a management level position, be prepared for Google AdWords interview questions that will illustrate your combined knowledge of PPC tactics and the ability to protect and grow the company by being able to look at an AdWords campaign strategically. Here are 5 questions, along with the answers that will highlight your capabilities.
Google Adwords Interview Question 1: It's crucial that we're able to track conversions with our AdWords campaign. Can you explain the methods you use for tracking?
Answer: There are several ways of tracking conversions and measuring success. For example, accessing the search funnels inside tools and analysis which shows us when a customer first clicked on an ad and how frequently they viewed the ad before clicking.
We can also track purchases using the basic Adwords tracking code and adapt it with additional code that's specific to your e-commerce platform. It's also important to know when a customer isn't clicking on an ad, so it's smart to leverage conversion window options to track when ads are being viewed but not clicked.
Google Adwords Interview Question 2: If our current campaign isn't producing the results we're looking for, how can you increase conversions?
Answer: The first step is making sure that the ad is targeted to the audience that's most likely to convert. This means creating ads that are matched seamlessly with a set of high performing keywords and creating tightly themed ad groups.
Google Adwords Interview Question 3: Are you familiar with the conversion optimizer in AdWords? Can you explain what it is?
Answer: A conversion optimizer is a tool that can help you get maximum ROI out of your AdWords investment. It's used for bid manipulation and gives insights into which clicks on an ad will be the most valuable for maximizing your return.
Google Adwords Interview Question 4: The CPC on our highest performing keywords is continuing to go up. Can you explain some factors that might be affecting this change?
Answer: Often, an increase in CPC is directly related to an increase in competition for those words. It can also commonly be caused by a reduced search volume or downward trending quality scores. There are ways of determining which of these is the cause.
For example, we can compare the Auction Insights to determine when the CPC was lower and if new competitors have made added to the list. This helps to determine if other businesses competing for the keywords is the cause of the fluctuation.
We can also leverage Google Trends to analyze search volume and assess the quality score via a detailed analysis. Plus, it never hurts to look at recent changes such as those in current CPC policy which may also be affecting the rising investment of your current campaign.
Google Adwords Interview Question 5: How familiar are you with our competitors and their current PPC strategies?
Answer: The only way to successfully answer this question is by doing your homework. For PPC management positions you need to understand the current market and the other major players in it. Every business, no matter how big or small has competitors that can threaten the ROI of an AdWords campaign.
Start by researching who these competitors are, and then learning as much about their ad strategies as possible. Arrive at your interview prepared to detail the strategies of 1-2 competitors and how you would adapt your own PPC tactics to gain a competitive advantage over them.
These questions are meant to serve as a stepping stone to acing the interview and landing the job of your dreams. One of the best ways to acquire the skills that employers are looking for is to always be looking for ways to build upon your knowledge of PPC. Simplilearn offers many professional courses that will help you gain a competitive advantage in the world of PPC. Check out our course offerings to learn more.